We use affiliate links. If you buy something through the links on this page, we may earn a commission at no cost to you. Learn more.
Clarification added 12/04/04: The Razr V3 that I
purchased was from Expansys-US. This means that the version I got was for the UK
and came with the standard Motorola packaging and accessories. The US models of
this phone seem to be repackaged and so does not come with the nice metal box
and perhaps even some of the accessories. The phone itself may also be modified
depending on the carrier and their wishes.
Additional Clarification added May 21, 2005:
I am a user of the Razr – I am not affiliated with any carrier or Motorola. I do
not know any Motorola plans or Carrier plans on the future of this phone or
anything related to it. I did not test the Pro version of the Phone Tools
synching, only the Mac iSync which worked very well.
Additional update added 12/12/04 appears at bottom.
About three weeks ago I put into my hands for the first time the hot new Motorola
Razr V3 flip phone. Lets first detail the specs before I get into what my impressions
of the phone are and what I feel are its strengths and weaknesses.
The phone is half an inch thick and made of anodized aluminum – the
same material as an Apple PowerBook G4 laptop. It is a quad band GSM phone with
Bluetooth and pretty much every other feature a modern phone can have such as
Java support, voice dialing, speakerphone, WAP browsing, email, MMS/SMS, and
of course a camera.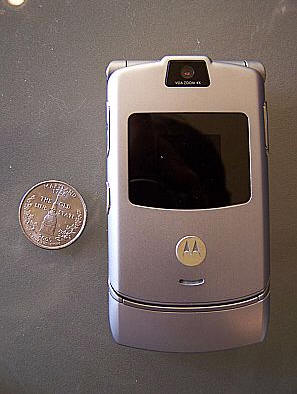 First Impressions
When I first got the phone I was taken aback by the all metal retail box the
phone comes in. Its quite cool looking and definitely a keeper. Then I opened
the box and got the phone out with its accessories. It comes with a decent leather
case, AC adapter, mini-USB adapter, USB -> miniUSB cord, battery, back cover,
and headphones for hands free use.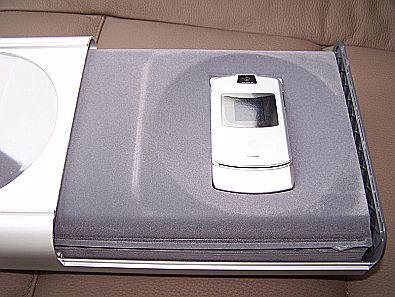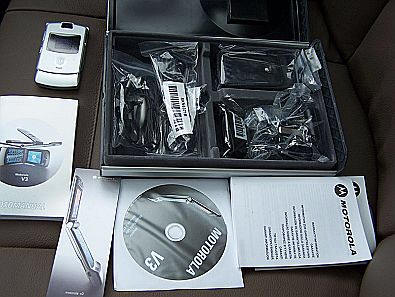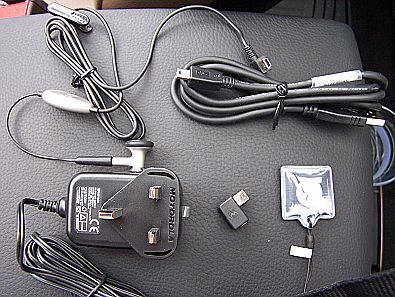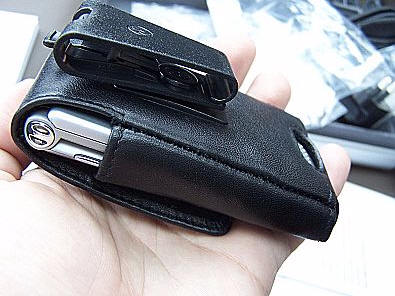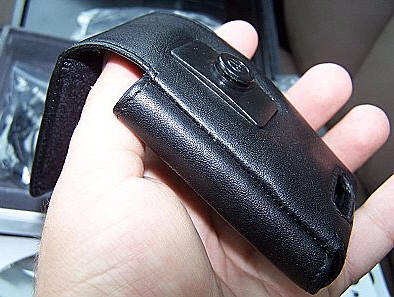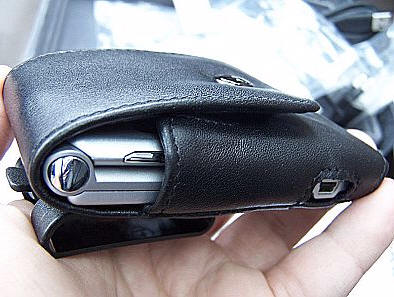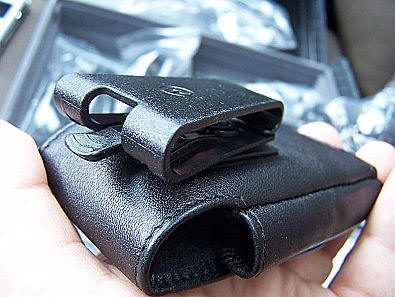 Along with the hardware the phone comes with
a CD of the Motorola Mobile PhoneTools which is an interesting piece of software.
While still sitting in the car I unwrapped the phone from the plastic surrounding
it and put it together. I found it a tad difficult to get the back cover over
the battery and spent quite a few minutes getting it on correctly. Once it snapped
on it felt very secure and over the past three weeks I haven't found any
cause to wonder if it will come off, unlike some other phones I've used.
I have even dropped the phone once in Walgreen's with nary a scratch or cover
flying off.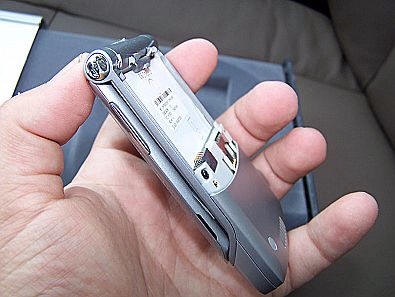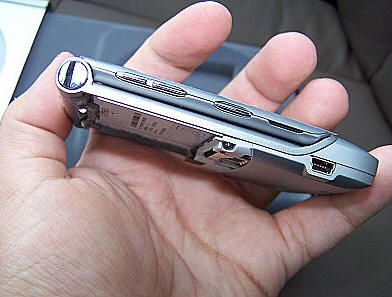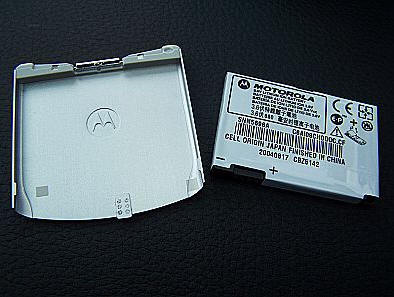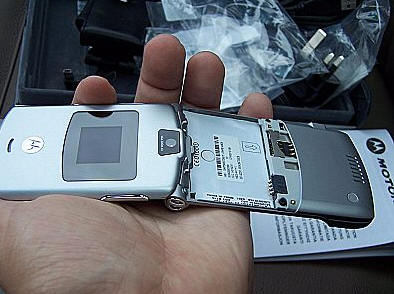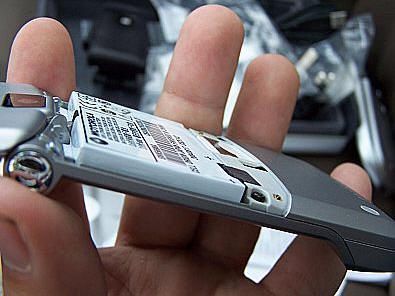 Turning the phone on (press and hold on the red Call End key) brings up a
gorgeous LCD screen. This screen rivals any PDA screen for color and contrast.
Of course its resolution is relatively low, but for a phone screen it's
really gorgeous. Just holding the phone is an experience. Its so thin, so light,
and really truly beautiful.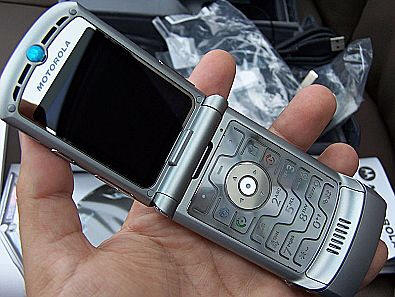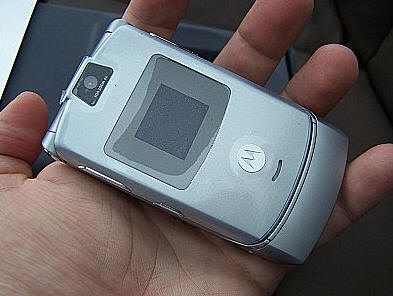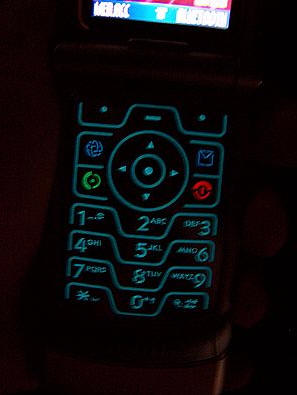 I had read on many sites that the keypad was acid burned to keep it thin and
so I had wondered how it would feel and was very pleasantly surprised to find
it very good. In fact, its probably the best keypad I've ever felt on
any other phone I've ever used. I am also happy that unlike other Motorola
phones the Start Call and End Call buttons are finally in the right positions.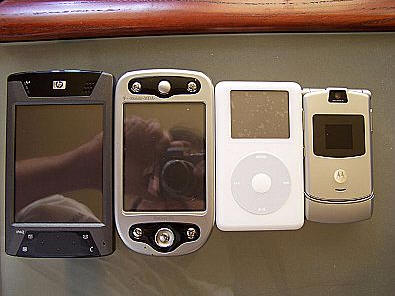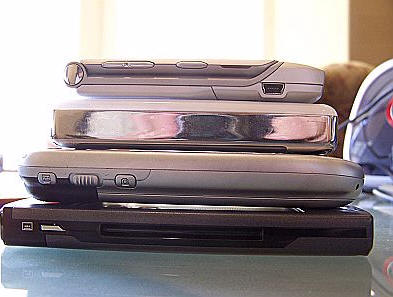 You may start feeling this review is going to be just a bunch of praises for
this phone and truthfully – it may turn out to be that way. This phone
is that good and for the price it better be!
Setting It Up
The Razr uses the standard Motorola v600 phone OS with a few tweaks. The home
screen shows the standard battery level, volume level, signal level, Bluetooth
activity, carrier name, and date that you expect from a normal phone. On the
screen you also see two soft keys and a menu key in the middle with 4 icons
in the middle situated in a circle to denote actions for the arrow keys. To
setup the phone you first go to the main menu and choose the Settings icon on
the bottom right. Personalize the phone with your themes, colors, button assignments,
home page icon assignments, and so on. Setup the ring styles for your favorite
ringer. And pretty much you're done.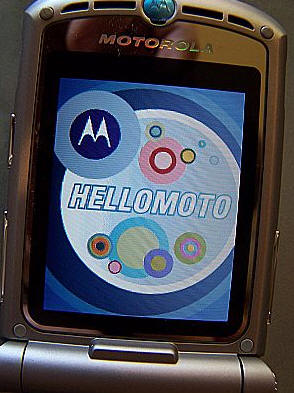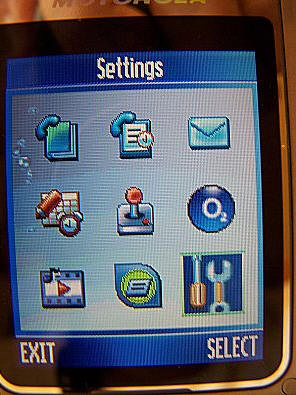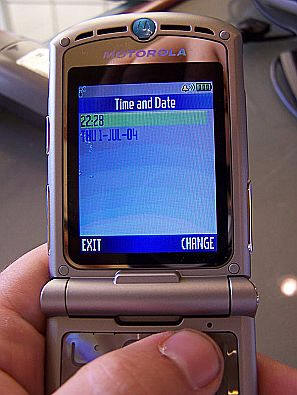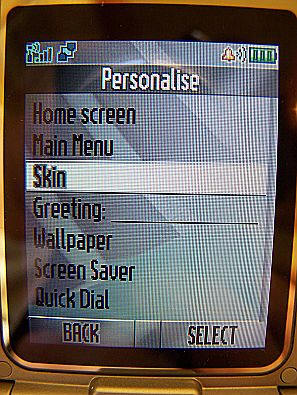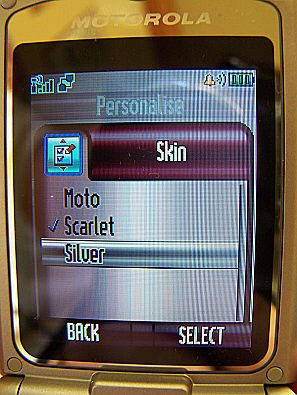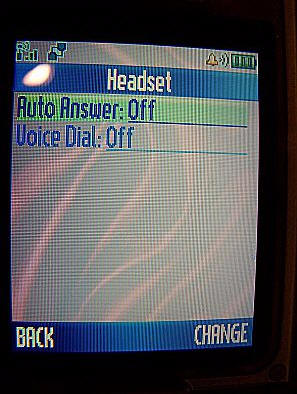 Synching and the Address Book
So now you've got a phone that works and looks the way you want to.
Of course unless you keep your address book in your head, you'll want
a way to import phone numbers, assign them voice commands, and speed dial numbers.
At least for me this was the most difficult part. I first tried to send my address
book from my HP hx4700 via Bluetooth. I turned on Bluetooth and paired the two
devices together which worked splendidly. I went into Pocket Informant and selected
all my contacts and chose "Send Contact via Bluetooth" from the
Tools menu. And it did…sort of. The Razr required my acceptance of every
contact that was beamed over while the 4700 kept sending them without checking
to see if they were being accepted. After it was all done I was only fast enough
to accept 4 of my contacts out of about 300. Obviously that wasn't going
to work. So the next thing I tried was the Motorola Phone Tools.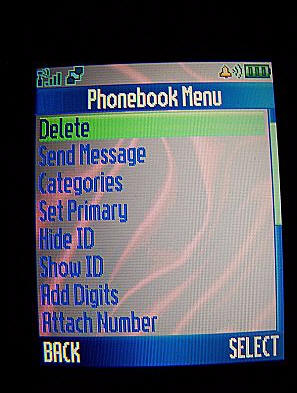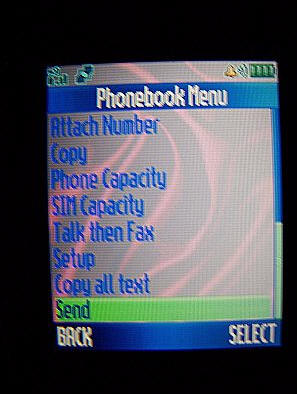 Motorola Phone Tools is an interesting app that once installed gives you a
virtual view of your phone on your desktop and access to all the call logging,
setup, address book, calendar and more via a relatively decent Windows user
interface.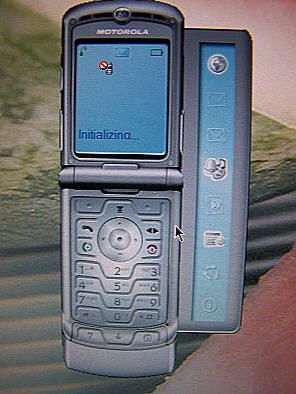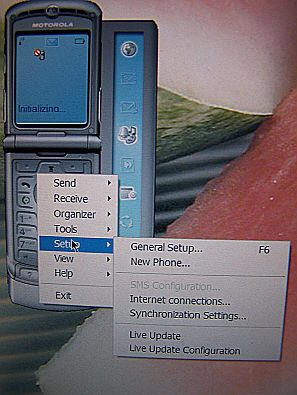 Call logging is especially nice as you can export it to a text file for
billing and or archiving. According to the documentation this application also
would setup a sync between Outlook and the phone. After two hours of trial and
tribulation I could not get this to work. I could dial from my desktop, I could
set it up, and I could even sync entries with the Phone Tools' address book, but
I could not sync with Outlook. Finally, I decided to try my PowerMac G5.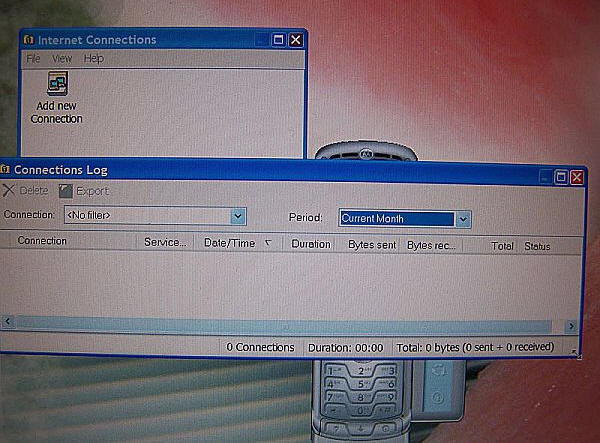 I have an interesting setup for my PIM information. My master PIM information
is in Microsoft Entourage on my PowerMac. All my calendar and contacts live
there. I then sync that to the Apple Address Book so that all the OS X apps
that integrate with the system address book will use them. I then sync Entourage
with my hx4700 since that is my primary PDA. And finally my hx4700 syncs with
Outlook on my development PC. That's a lot of synching!
At first I was going to go the wireless route and attempt to sync via Bluetooth
on the Mac, but I decided that since the USB cable charges the phone as well
I'd go ahead and just hook it up via USB. The phone was recognized instantly
as I opened up iSync. I set it up to sync my Contacts and within about 5 minutes
all my Contacts were on the phone. I was a bit disappointed that none of my
contact pictures made it over as the phone does support that, but nevertheless
the synching worked. Only on my Mac, though. I'm sure that the Motorola
Phone Tools work better for others.
After I got my contacts synched the next important step was to access them
quickly. I was able to easily setup voice tags for my most important contacts
and I have never found this to fail no matter how loud or windy the area I'm
calling from was. I found setting speed numbers to my contacts quite a bit more
difficult. Nothing in the manual really helped me here. Eventually I found out
that I had to set the phone to get its speed numbers from the phone memory and
not SIM memory. Once I made that setup change, setting speed dial numbers was
quite easy. I do find myself using the voice tags more often though as its very
simple to use and requires little thought.
Phone Basics
The Razr does pretty well in all the basics. I've found the reception
better than my XDA II, and about as good as my Nokia 3360 was. The buttons are
easy to press except for the side buttons for volume control as they are
a bit too thin and also have more resistance to them. Even though it does make
it harder to use, I find this a good thing as it makes sure that while the phone
is in my pocket or in its case, it will not change volume just due to my movement.
The ringer is extraordinarily loud and can be customized with many ring tones
of course.
Getting to the recent dialed, received calls and the timers is pretty simple
and convenient as it should be. The one thing I prefer about a Windows Mobile
phone over the Razr is the access to a favorite dialing list. Except for the
normal address book, there is no such list. Even with voice dialing and speed
number dialing, having a favorites dialing list would prove very helpful. The
Razr's address book does support groups, but I could find no way to make
it work as simply as the Windows Mobile speed dial list.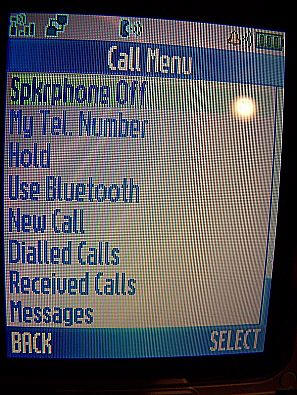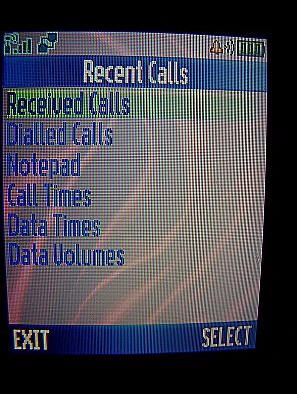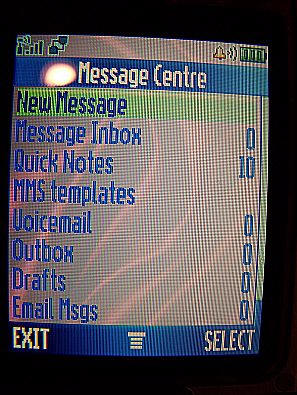 One of the reasons I wanted a flip phone is to make it easier to use for me
(flip open to answer, flip close to end and no locking of buttons necessary).
The problem with many flip phones is you have to open it to see who is calling.
The Razr comes with a full color LCD screen on its flip cover. This screen shows
you who is calling as well as almost all the indicators of the big screen inside.
Very cool.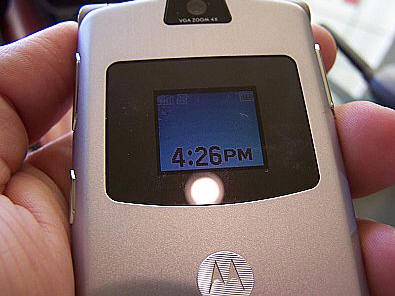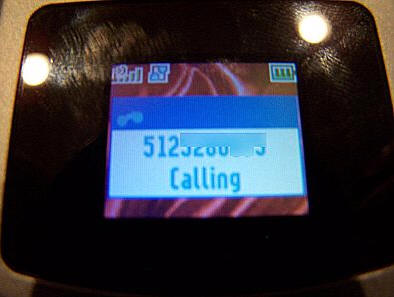 Finally the battery life seems to be very good. I charge it daily, but even
with heavy use for GPRS and voice, I find that I've got plenty of battery
life left. One major issue is that I can find no accessories for this phone
as it uses a mini-USB port instead of the standard Motorola connector so I've
had to charge it only when I get into the office.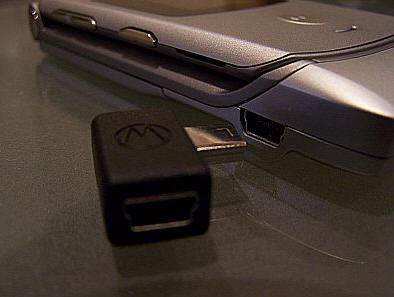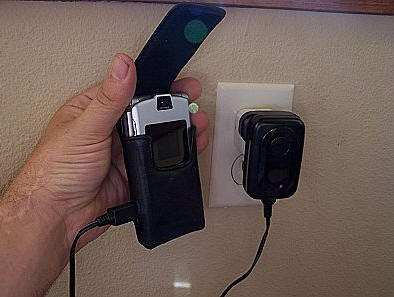 Everything else
Of course being a smart phone, the phone contains the normal calculator,
Datebook,
voice recording, alarm clock, IM, WAP, MMS/SMS/email, games, and such. It also
contains some Motorola specific apps like the Moto-Mixer and graphics apps that
let you do some interesting music mixes. I really don't get its usefulness,
but I wanted to at least mention it.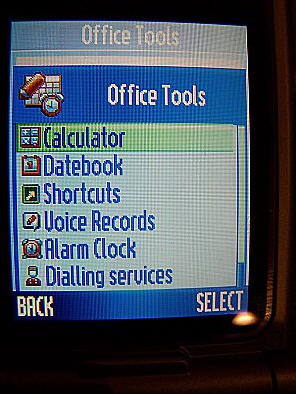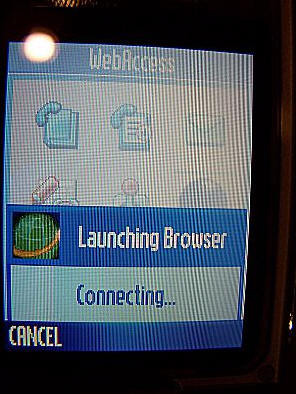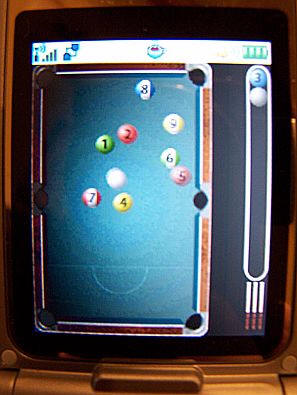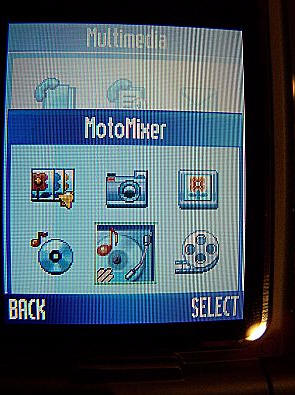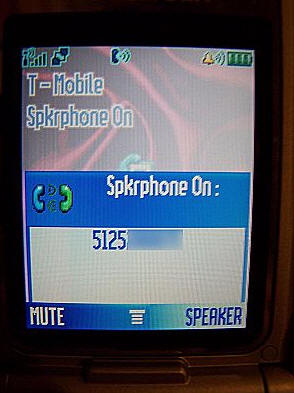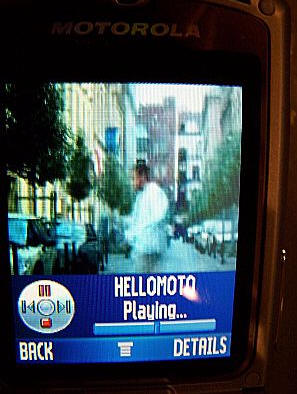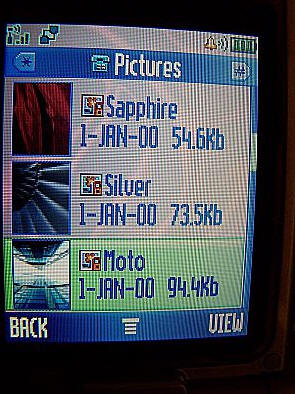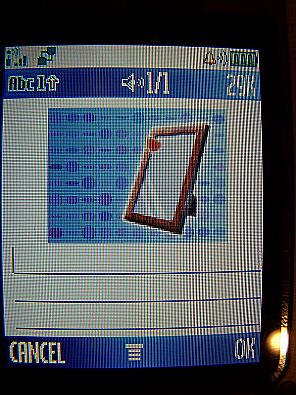 The WAP features work relatively well converting regular HTML to its version
just like the WAP browsers in the Nokia or Symbian phones. The MMS editor was
very nice and pretty full featured, but nothing I'd personally use a lot.
One interesting application that seemed to get top billing in the menus was
IM. It seems to use a proprietary carrier specific protocol or perhaps AIM,
but I couldn't tell as the setup didn't work for me and the help
was less than helpful.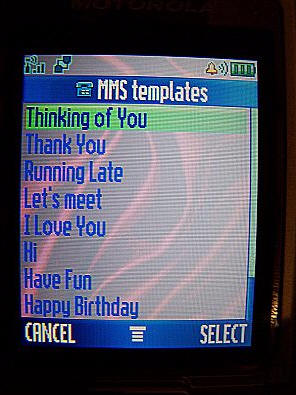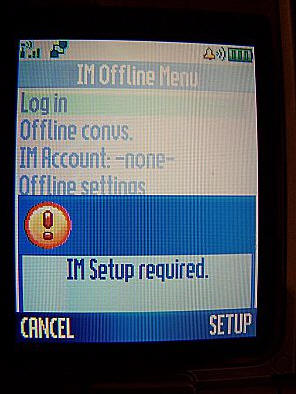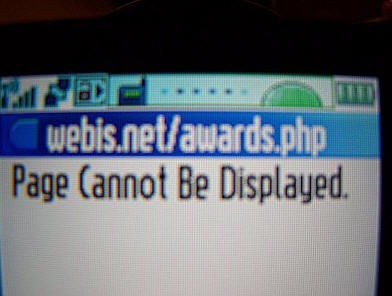 One of the reasons I purchased this phone was to use with my hx4700 for internet
access while on the road. I tested this quite a few times using Bluetooth and
except for a few setup snags (on the 4700 side) it all worked very well. The
4700's Bluetooth Phone Manager incorrectly sets up TMobile data connections
so I had to do that myself, but once setup it worked very well and I'm
very happy with the interaction of the two metal beasts.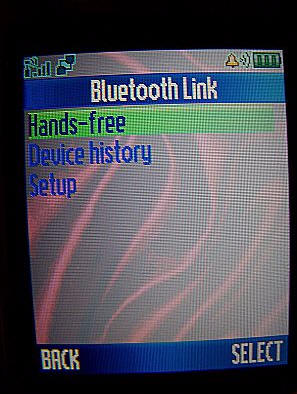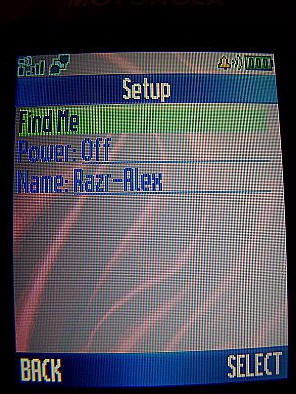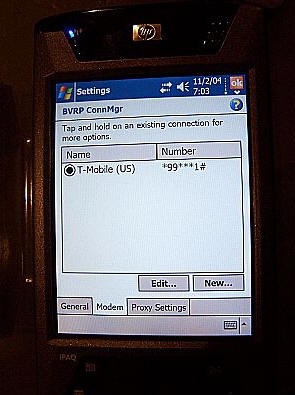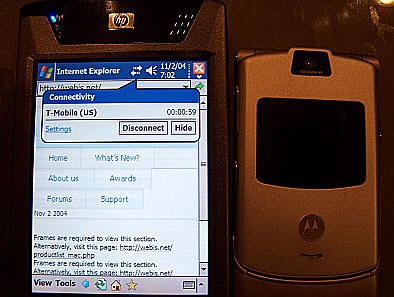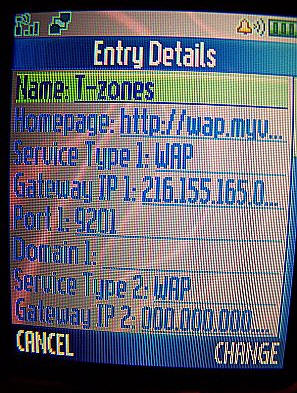 I never really use my phones for taking pictures so I cannot really comment
on the camera's quality. I found it to be about par with other camera
phone pictures I've seen which is not saying much.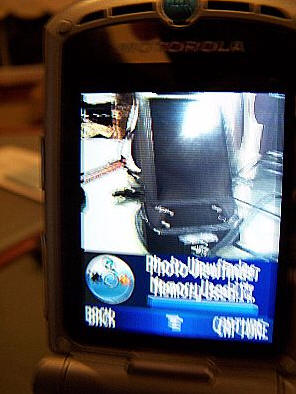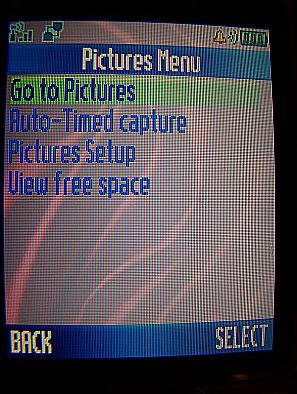 Conclusion
I love this phone. Its thin, its light, its feature-full, and does its primary
job better than my previous phone – the XDA II. I do wish synching would've
worked better on my PC just so I could have tested that more and I do wish I
had an easy to get to favorites contact list. But other than that, it is hard
to find fault with this phone. The battery life seems good. Reception is great.
The UI is great in most areas. The LCD screen on both the inside and outside
is fantastic. And knowing that I can take this phone anywhere in the world is
pretty nice too. All that said, you know you're paying for the look of
the phone and its size. Just like an iPod Mini. But just as an iPod Mini was
worth it for my wife, the Razr is worth it for me.
Update added 12/12/04: Here is an update to the
Motorola Review after spending a full 6 weeks with the phone now. Since the
review went up I've had all sorts of questions about the phone about features I
didn't even know existed. Thanks to those questions I've spent a bit more time
in those areas and have now been able to provide a bit more info. My happiness
with this phone still stands and I'm truly ecstatic about using it to the point
that I'm seriously considering forwarding my business land line to it. But a few
problems have cropped up that may affect others usage of the phone. Here they
are:
First, the phone is capable of handling GIF wallpapers like many other phones,
but unlike some other phones it cannot animate GIF89 pictures. Second, the small
LCD panel used when the phone is closed lights up for only 10 seconds or so and
cannot be set to stay on indefinitely or for longer. You can press the smart
button for the LCD to light up again, but some people seem to not care for that.
Finally – and this one I do consider a bit problematic – the Inbox application
does not let me set a mail server for it to retrieve mail from. I can go into
the settings and set every single other field in the Inbox settings, but any
change I make whatsoever in the "Receiving Mail Server" field just kicks me back
to the Messages menu. I do not know if this is unique to my UK targeted phone or
if Cingular customers will see the same thing.
PHONE
CARRIER

PRICE
AFTER REBATE
 
Motorola RAZR V3


$99.00

FREE



$0.00

FREE



$49.00

FREE


Product Information
Price:
750.0
Manufacturer:
Motorola
Pros:

Good battery life
Great Reception
Very small
Durable
Features galore

Cons:

Expensive
Doesn't use standard Motorola accessories
Difficult to setup speed dial