We use affiliate links. If you buy something through the links on this page, we may earn a commission at no cost to you. Learn more.
So you want a digital camera, a digital
camcorder, a PC web cam, a voice recorder and a data storage device. So many
gadgets but so little money after Christmas. Will say hello to the
Nisis Pocket
DV2 Digital Video Camera which delivers all these features in a truly pocket
size gizmo and for only $140.
Well if you are like me I was very skeptical about this device. We all know
the saying " You get what you pay for ", but there is also another saying " All
good things come in small packages " and this small package really does deliver
what it says on the box.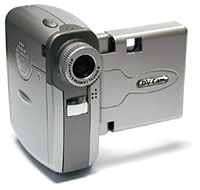 I ordered my DV2 camera from
www.amazon.co.uk along with a extra 128mb compact flash card. It arrived in
a couple of days and my first impressions of the packaging where not great, a
bit cheap looking. As always I ripped opened the box, threw the instructions on
the floor and set about playing with my new toy. This camera really is pocket
size, about the size and weight of a standard PC mouse. The camera is a bit plasticky but appears to be fairly sturdy.


After playing with it for about 10mins, you soon realize that it is packed
full of simple but useful features. There is a colour LCD screen that can be
used as a view finder, a preview screen and also to navigate around the simple
program interface. The screen is easily viewable indoors but doesn't show up very
well outside in bright light. Taking pictures / video is as simple as pushing
one button and the picture / video can be viewed or deleted via the LCD screen.
Picture / video quality is not bad considering the camera uses the cheaper CMOS
image sensor and certainly is great for capturing those holiday snap images.
Picture / video quality does really suffer in bad lighting conditions and seeing
as
there is no flash pictures taken inside a pub or club are a waste of time. You
soon realize that this little camera eats batteries alive and the original
batteries it comes with only last for about 45 – 60 mins. You must invest in
some rechargeable batteries. The other worth while investment is a compact flash
card.


Outdoor picture. Click to see full size image.


Indoor close up picture. Click to see full size image.
Although the built-in memory can store up to 80 pictures at normal resolution
it will only store about 2-3 minutes of video footage. With a card you can hope
to achieve the following, also loads of space for pictures.
Never miss one of our posts again. Sent MON, WED, and FRI with the latest gadget reviews and news!
No card – approx 2-3 mins
16MB CF Card – approx 4 mins
32MB CF Card – approx 6-9 mins
64MB CF Card – approx 20-30 mins
128MB CF Card – approx 30-50 mins
256MB CF Card – approx 50-70 mins
512MB CF Card – approx 80-120 mins
The camera will also capture sound along with the video footage or can be
used as a voice recorder for recording memo's etc. Unfortunately recording and
play back is of poor quality but it does help to capture the moment. You could
also use the camera to transfer any data from PC to PC via the compact flash
card.
Other useful features are the included tripod, to help with those shaky
hands and A/V leads (to connect to TV/Video) for when you don't want to use your
PC to preview your images / movies.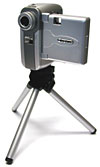 The included software does the job well but a tip to improve video capture
when attached to a PC is to use some freeware software from
www.virtualdub.org. This
allows higher frame rates amongst many other tweaking settings.
Technical
Specification:

Image sensor
1.3 Mega
pixel CMOS sensor (16m colours)

Internal memory
Internal
16MB built-in SDRAM, expandable up to 512MB with
CompactFlash (CF) cards (sold separately)

Modes
– Digital Video
Recording
– Still Photos
– PC Webcam
– Voice Recording

Resolution
– Digital Video: 320 x
240 pixels
– Still Photos: 1280 x 1024 (SXGA) & 640 x 480 (VGA)
– Webcam: 640 x 480 through 160 x 120

File Formats
– Digital Video: AVI
(with audio)
– Still Photos: 24-bit JPEG

Storage capacity
(with 16MB onboard memory – much more storage capacity
with optional CF cards)
– Digital Video: around
3 mins @ 10 fps. (Up to 30 mins with 64MB CF card)
– Still Photos: 80 images (VGA)
– Audio only: over 30 mins

A/V Out
PAL & NTSC

Exposure & White Balance
Auto

Focus
Variable:
20cm ~ infinity

Power control
Auto off
(30 seconds)

Self timer
10 seconds

Dimensions
8cm (H) x
4cm (W) x 8cm (D)

Weight
123g
In conclusion I have found this camera to be more than adequate for my needs.
I wanted a pocket size snapper that if I lost or broke it, it wouldn't break the
bank and something that didn't need a new mortgage to purchase in the first
place. This funky little tool filled this criteria and also came with the fun
video capture, sound recorder and data transfer capabilities. This camera may
not match up to a $800 camera but then it doesn't cost that much, but for what
it does cost it certainly delivers.
Price: About $140…..99 pounds Sterling
Pros: 

Size
Cheap
Features ( Digital Camera, Digital
Video, Sound recorder, Data transfer )
Cons: 

Battery Life ( needs a AC adapter )
Photo
quality in bad light ( needs a flash )
Sound Quality could do with improving