We use affiliate links. If you buy something through the links on this page, we may earn a commission at no cost to you. Learn more.
Like many of you, I like my music collection and have amassed a large collection
of music CDs over the years. Because I commuted a lot and wanted to listen to a
large range of my music collection I purchased a portable minidisc
recorder/player. Later I replaced this with a full deck and a portable player.
Now, the problem having moved to Canada recently from New Zealand it was not
worth me bringing over my full deck and with my large range of music, I found it
time-consuming copying audio to the MD discs at 1x speed. Recently SONY
introduced the NetMD format for their new range of MD walkmans but I decided it
was not what I was after. I did not like the software "checkout" system they
used and heard there were problems with variable bit rate mp3 files.
I started to look at other solutions and had the Nomad Jukebox II for a short
time. I found the USB copying of large number of tracks to be flakey, and the
software to be full of bugs that would cause it to crash. I delved into the
world of CD based mp3 players and found the iRiver iMP-350 SlimX. This unit has
solved some of my issues and provided a great means of listening to my tunes.
Hardware Specs
Dimension: Approx. 135(W) X 145(L) X 16.7(H) mm
Weight: Approx. 189g (Excluding Batteries)
CD Type: CD-DA, CD-Text (8cm/12cm), CD-ROM Mode1, Mode 2 Form1, Enhanced CD,
CD-Plus
CD-R/RW Readability:  Packet-Write, ISO9660, Joliet, Romeo, Multi-Session
File Support:
    File Type MPEG 1/2/2.5 layer 3, WMA, ASF
    Bit Rate 8Kbps ~ 320Kbps
    Tag ID3 V1 Tag, ID3 V2 2.0, ID3 V2 3.0
Power Supply: AC Adapter DC 4.5V, 300mA, Rechargeable Two STICK Type Ni-Mh
Batteries, External Battery Two 1.5V AA Size Batteries
Connections: Headphone Out (combined with special remote connector), Line
Out, AC Adapter
Additional Features: Built in FM tuner, Backlit Graphic Display on Remote,
Adjustable equalizer (5 Presets and 1 User Defined), Supports multiple
languages.
Box Contents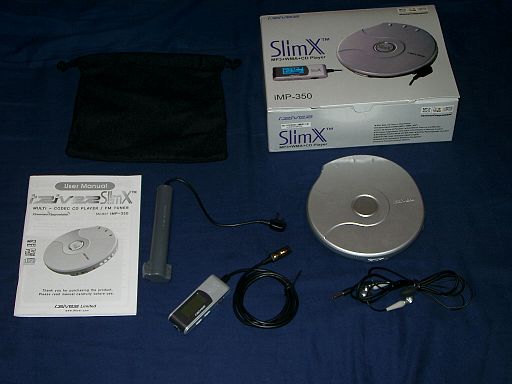 • SlimX 350 CD/MP3 Player
• Remote control
• Bud style headphones
• Instruction Manual
• Cloth bag
• AA battery extender
• AC Adapter (I forgot to put it in the photo!)
The big thing to note about this unit is that it is slim line at 16.7mm and is
currently the worlds thinnest CD based MP3 Player. It plays standard audio CDs,
Enhanced CD, CD Plus, home-made CD-R and CD-RW discs, supporting the popular
music formats of MP3, WMA and ASF!
There is also an 8 minute antis-shock buffer to avoid any skipping during
playback and the unit's firmware is user upgradeable. This means when future
audio formats are released or features added to the player software, these can
be downloaded from the company website and burnt to a CD-R. The unit is powered
on and the firmware is upgraded to include the new changes. I have already
successfully completed this capability twice.
Build Quality
I found the build quality to be excellent. It feels solid to hold and possibly
would take a few knocks (Not that I tested that out!!) The design and look of
the player is very nice.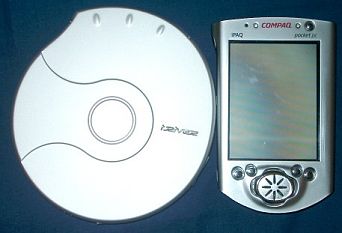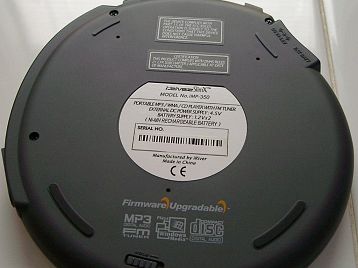 Remote Control
Unfortunately, I found the remote to feel "squarish" in the hand, and a bit
awkward to use with the small buttons. While trying to navigate the menu I often
would press the wrong button. Now, having a remote is a major consideration for
me for buying a portable music-playing device. I like to have the player tucked
away in a bag or in a pocket and control it from my remote. I found the clip to
be tight and strong. Ideally my favored style of remote control has both the
wire from the headset and from the unit connected on one side, like some of the
AIWA MD player remotes are designed. This enables you to clip them easier to the
outside of your jacket and have the wires coming from one general direction.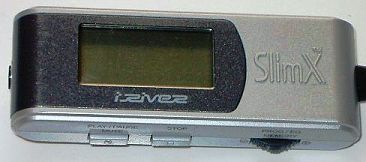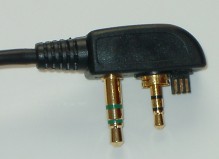 It would be great if iRiver release a more ergonomic styled remote. Update,
September 2002, iRiver have released a new remote with the iRiver 400 player
that looks to resolve the problems I mentioned above!
Rechargeable Batteries & External AA holder
The other great feature for the player is that it uses rechargeable batteries.
These are of the "gum stick" varieties that are now commonly used in many types
of portable devices. (Walkmans, cameras etc). If you are out and find out you
have run out of juice, you can use 2 x AA batteries in the supplied pack to
provide more playback time. A great idea and concept. Unfortunately the pack
does not attach to the player but dangles precariously from it by the attached
power cable when used.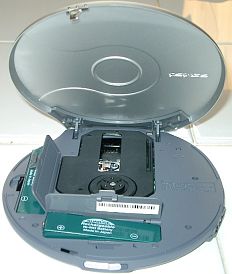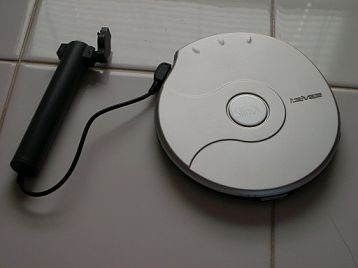 Support
After about 2 weeks, I actually lost the tiny spring to that holds the clip to
the body of the remote. It pretty much came off when I was walking down the road
and I was clipping the remote to my jacket.
I gave a quick call to the friendly guys at
www.mp3playerstore.com and asked
about the warranty for the unit. They directed me to the manufacturer, who I
contacted at their North American web-site at
www.iriveramerica.com. I emailed them
explaining my plight with the remote control and after a few days without an
acknowledgement of receiving my email, I gave them a call. The person I spoke to
checked their email and said they had had it in their inbox. Warranty claims
were dealt with another party and my email will be forwarded to them. I would
expect to hear from them and receive a RMA in about 10days time. (That was over
6 weeks ago and I STILL have not heard a thing from either of them)
Update – September 2002, still no word from iRiver or their warranty team.
After about 2 weeks, I called the guys at Mp3PlayerStore up and had a chat to
them explaining my problem with the missing remote control spring. They said
that they had received similar returns and that I could infact return it to them
and they will swap it out. They promptly sent me an RMA and I sent in the
remote. Within the week, I received an email stating that my remote had been
shipped. (They shipped it XpressPost as well)
Needless to say, I am very, very pleased with the customer relations from
mp3PlayerStore and would like to thank the guys there for helping me out when
they did not really have to. (My only association with them is that I am a happy
customer!)
Iriver have a great product, but their marketing/sales/team could do better. Ok,
this may be one of *those* "one-off" experiences, etc but in my email to them I
actually highlighted the fact that I was in the process of reviewing the
player!!! Something I did not mention this to the Mp3PlayerStore guys.
That said and done, the product is great.
Navigation
You are able to use the remote to control everything on the player. After a bit
of use it becomes intuitive. You can easily navigate folders on your cd.
Summary
8/10 – Almost the perfect CD based player, I would like to see a nicer styled
remote control and some sort of external way to attach the external AA pack to
the unit. I know a lot of the portable MiniDisc units have packs that's screw
onto the player.
 
Price: $160
Pros:
Thin and lightweight
Easily updateable firmware
Ability to use headphones of choice
Backlit Remote control
Rechargeable "gum-style" batteries
External pack to carry AA batteries for power when rechargeables are exhausted
Lots of options including pre-set equalizer settings and 1 user definable one
Looks very classy and eye-catching
Cons:
Remote control buttons are quite small and can be hard to use
Size of LCD on remote could be bigger
When connected to the player, the external AA pack is awkwardly attached
Unsure on the quality of after sales and warranty support from
www.iriveramerica.com
Product Information
Price:
160.0
Manufacturer:
iRiver
Pros:

Thin and lightweight
Easily updateable firmware
Ability to use headphones of choice
Backlit Remote control
Rechargeable "gum-style" batteries
External pack to carry AA batteries for power when rechargeables are exhausted
Lots of options including pre-set equalizer settings and 1 user definable one
Looks very classy and eye-catching

Cons:

Remote control buttons are quite small and can be hard to use
Size of LCD on remote could be bigger
When connected to the player, the external AA pack is awkwardly attached
Unsure on the quality of after sales and warranty support from
www.iriveramerica.com