We use affiliate links. If you buy something through the links on this page, we may earn a commission at no cost to you. Learn more.
Product Requirements:
Device:
XXX
"Don't forget the pants…"
This phrase has haunted me since it was told to me repeatedly in 1995. I was
making my big independent film and there was a single piece of costuming that I
had to bring for a night's shoot – guess what I did?
I forgot the pants.
Sure, there were questions as to why the other security guard was wearing
jeans, but that's really not the point…my friend and producer repeated the
phrase to me over and over. After forgetting those cursed pants, it became our
mantra for all digital recording devices – which were all the rage back then.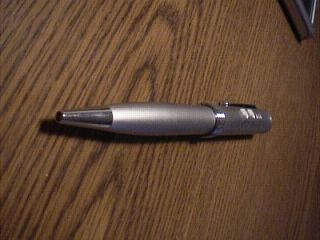 Flash forward to now – and the
45
Second Recording Stylus, available from
Stylus Central.
I can understand that you Pocket PC folk out there already have (or are about
to) stop reading this review, as a recording device is present on every PPC PDA
that I know of – but keep going…please, there is something in here for you…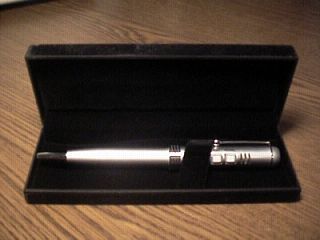 The stylus comes in a very nice velvet gift box, giving it an air of quality
even before wielding it. Removing the device, it has a very nice weight and
balance – one of the best I have ever experienced (and I have been through more
than my share of styli…).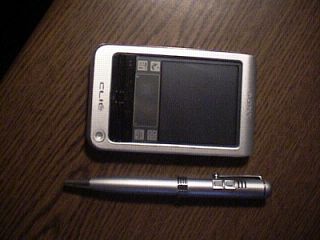 Construction is of brushed aluminum with chrome accent pieces, and (as you
can see) it looks right at home with my CLIÉ 615C – which may contain the worst
stylus ever bundled with a PDA. Extension of the stylus tip is accomplished with
a simple twist. This unit includes a traditional pen insert to use instead of
the stylus, but this is not a dual-action item – only one tip may be inserted at
a time.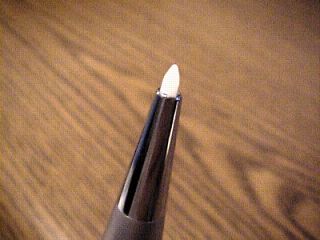 I already mentioned that the weight and balance of this piece are excellent,
and now I must rave about the tip. While not spring-loaded (á la Pentopia
products) it is quite sharp (read: precise) and the best method I have found for
working through the Action Names hi-res,
you-will-go-blind-reading-text-this-small setting.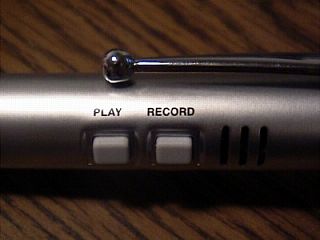 The pocket clip is lightly sprung and has a ball on the end. Inserting and
removing the stylus from a breast pocket is effortless and the clip has just
enough style to be classy, not garish.
Wait a second – wasn't there something else about this stylus that I was
going to review?
Oh yeah…the digital recorder.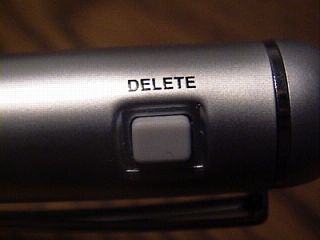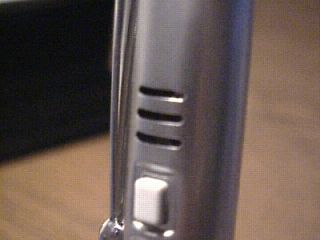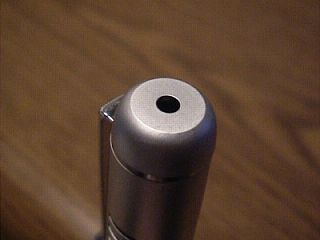 Controls are simple enough; [PLAY] and [RECORD] buttons are placed next to
the speaker, [DELETE] button on the opposite side of the stylus, and the
microphone is placed at the very end of the device. Press and hold [Record] to
create a new message – release when done (give me a break, I'm a Tech
Writer…). [PLAY] will start the first message, and a another press will
advance to a subsequent message. [DELETE] will…I think you can figure that one
out for yourself.
The placement of the buttons are great for recording messages, but can
actually get in the way when not making vocal notes. On more than one occasion,
I recorded a message while the stylus was in my breast pocket. No, nothing
juicy, just heavily-compressed ambient noises. Also, it is very possible to
activate the buttons while using the stylus – especially when
extending/retracting the tip (more on that later…).
As the name implies, the stylus will record up to 45 seconds of material.
Playback sounds pretty compressed, but words spoken directly into the mic are
understandable.
Now we get into a manner of personal preference – I have never really used
the "voice note" philosophy. I see words and if I can write something down
(which I did not do with the pants…yes, another story…I know) then it is
locked into my head, whether I read the note or not.
Basically, I had little use for the voice recording capabilities of this
device other than little pranks around the office. Actually, I was in a meeting
a week ago and as I was taking notes, I hit the [PLAY] button and everyone in
the small conference room heard a off-key (though thankfully not vulgar)
description of a coworker. An awkward silence followed for a moment, then people
went back to the meeting.
I hit the [DELETE] button and later took the batteries out.
Perhaps if the buttons were more recessed, or they were all farther back on
the stylus, this situation could have been avoided, but I am still using it as a
stylus – still a very, very nice writing instrument…
…but I use it to write notes, not record them.
Price: $29.99 from
styluscentral.com
Pros:
Superb writing instrument
Great fit and finish
Cons:
Not dual-action
Awkward button placement
Product Information
Price:
29.99
Manufacturer:
Stylus Central
Pros:

Superb writing instrument
Great fit and finish

Cons:

Not dual-action
Awkward button placement