We use affiliate links. If you buy something through the links on this page, we may earn a commission at no cost to you. Learn more.
Product Requirements:
Device:
Any touch screen device
If you are ready for something different and a bit more customized for your
PDA stylus, maybe you should take a look at what James Lambert is creating at Woodpens.com.
Realizing that many people are not satisfied with using a thin stock stylus,
James has created a distinctive line of beautiful hand-turned wooden pens,
equipped with what appears to be the PDA panache cross pen refill. Since that
happens to be one of my favorite types of stylus tips, I already figured that I
would be pleased with the writing quality on my PDA's screen – and I was not
disappointed.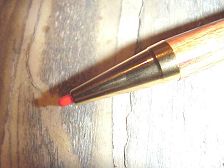 Some of the finest woods available from all around the world are being
utilized to create custom styli made to your specifications. In fact, James
offers over 40 choices of domestic and exotic woods to choose from. I know
we've all heard of Maple, Oak, and Cherry, and he does use those woods. But if
you're into something a little more unusual, what about trying Chechen (from
Central America), Bubinga (from West Africa), or Pink Ivory (from East &
South Africa) – one of the rarest woods in the world?
My first impression of the stylus that I was presented with for review was
very favorable. The wood is beautiful, and the style of the pen is timeless.
Basically, it looks like the classic Cross style, with gold plated accents at
the clip, middle, and the tip.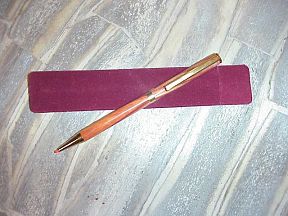 My stylus is made of Tulipwood, which I confess, I had never heard of before.
Tulipwood is a beautifully striped hardwood with so many colors that it is
quite lovely to look at. In my particular pen, I can see pinks, dark browns, an
almost purple red, and a yellowish tan. It's all quite pretty how the colors
go together.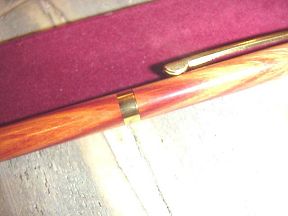 Who knew that wood could be so beautiful?
The way his pens are done really shows off the grain of the wood, and makes
your stylus look like something truly personal and custom made, which it
actually is. My stylus also feels so smooth and looks so "silky" that I
actually caught myself rubbing the barrel of the stylus, just to enjoy the feel
of it.
My particular stylus has a titanium nitride finish, under 24k gold plating.
That meant absolutely nothing to me, until I read James's informative FAQ
page, and found that this basically means that I should never have to worry
about my gold finish wearing off – which is very cool.
I was pleased to find that custom laser engraving is also an option for an
additional $5. What a perfect gift for someone who either has "everything",
or is generally impossible to buy for.
Speaking of gift giving, the wooden stylus comes with a velveteen sleeve at
no extra charge. This is perfect when you are giving the gift to yourself, and
you're not expecting a gift box. However, if the gift is for someone other
than yourself, you might want to opt for the upgrade to a wooden presentation
case ($5.00), a leatherette case ($5.00), or a velvet case ($5.95). Personally,
I'd continue the theme, and go with a wooden case.
Something interesting worth noting, is that James will even use your wood to
make a custom stylus or pen from, if you have a particular piece that has
sentimental value to you – at no extra cost.
Truly, this is a great product at a reasonable price. I have actually had to
fight off people that wanted to "borrow" mine, and I imagine that if you get
one, you might want to opt for the personalization, just to make sure that
honest people are kept honest. J
Price: $34.95, with a 30-day satisfaction guarantee
Pros:
Beautiful, custom made styli
Chose from over 40 exotic and native woods
PDA panache style tip
If stylus tip is ever damaged, they will replace it for free
Cons:

None
Product Information
Price:
34.95
Pros:

Beautiful, custom made styli
Chose from over 40 exotic and native woods
PDA panache style tip
If stylus tip is ever damaged, they will replace it for free

Cons: