We use affiliate links. If you buy something through the links on this page, we may earn a commission at no cost to you. Learn more.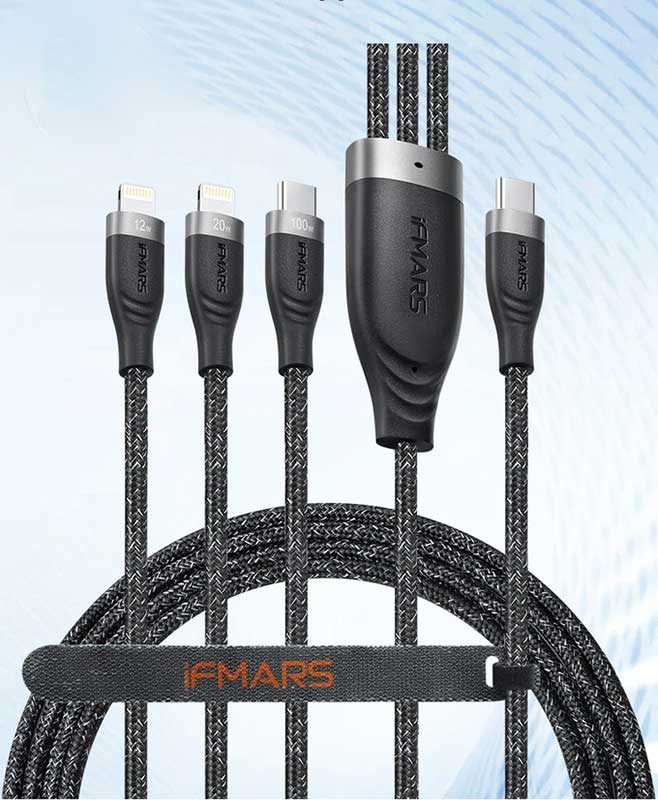 CROWDFUNDING NEWS – I've often called myself a minimalist, but a better term might be to call myself an essentialist. It's not that I want to get rid of all my stuff as much as that I want to use only what I need and to optimize what I use. That includes device accessories like cables and chargers. That's why the iFMARS Magic Cable which is currently seeking funding on Kickstarter caught my eye. Being a MacBook Pro, iPhone, and AirPods Pro owner, charging those devices requires multiple cables and adapters.
What is it?
The iFMARS Magic Cable is a 6.6 foot (2m) long 100W 3-in-1 charging cable for Apple devices that use USB-C and Lightning cables. It has 2 Lightning cables (18W and 20W) and a 100W USB-C cable and can charge 3 devices at the same time.  iFMARS offers other versions of this same cable with 2 USB-C and 1 Lightning cable and another with 1 USB-C, 1 micro USB, and 1 Lightning cable.
Why do I like it?
I like the iFMARS Magic Cable because like I mentioned above, I have a 13in MacBook Pro, iPhone 13 Pro Max, and AirPod Pro earbuds. Being able to use one USB-C AC adapter and one cable to charge all three devices at the same time really simplifies things for everyday use and especially for travel.
iFMARS sent me a pre-production sample of the Magic Cable and I've been very impressed with the construction and durability of it. I like the double nylon braided cable and also like that this cable uses smart power distribution to charge each device as fast as possible.
When Magic Cable powers multiple devices, it provides up to 80W power for MacBook Pro 16" and 15W power left for the remaining 2 devices, with free stock Apple 96W Power Adapter
Where can I find more info?
The iFMARS Magic Cable campaign ends on 10/20/21 and they have more than met their funding goal of $3,853. You can pre-order an iFMARS Magic Cable starting at $22. After the iFMARS Magic Cable campaign ends, rewards are estimated to start shipping in November 2021. Visit their Kickstarter page for all the details.