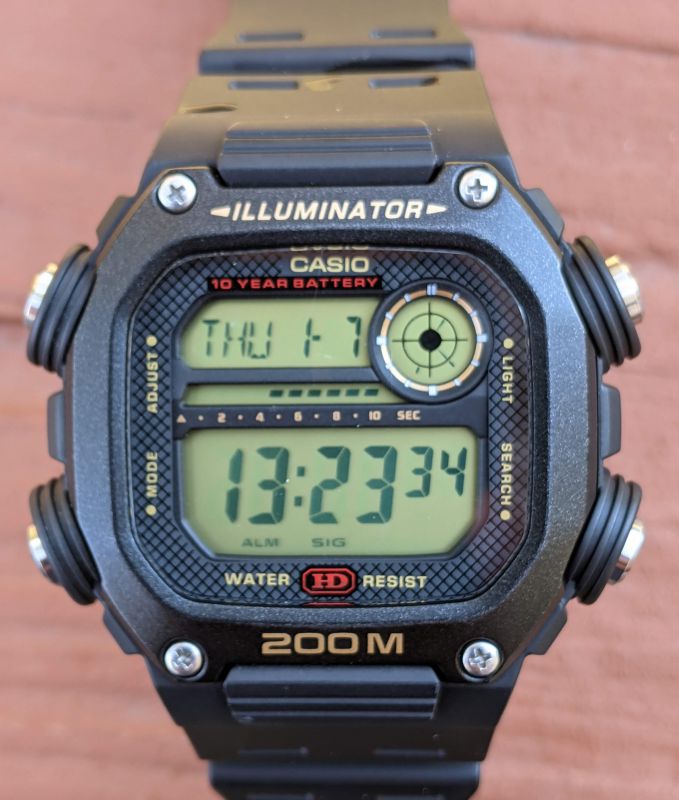 REVIEW – I love tech but sometimes simpler technologies can carry big benefits. Enter the Casio DW291H digital watch with 10-year battery, 200 meter water resistance, and more great features.
What is it?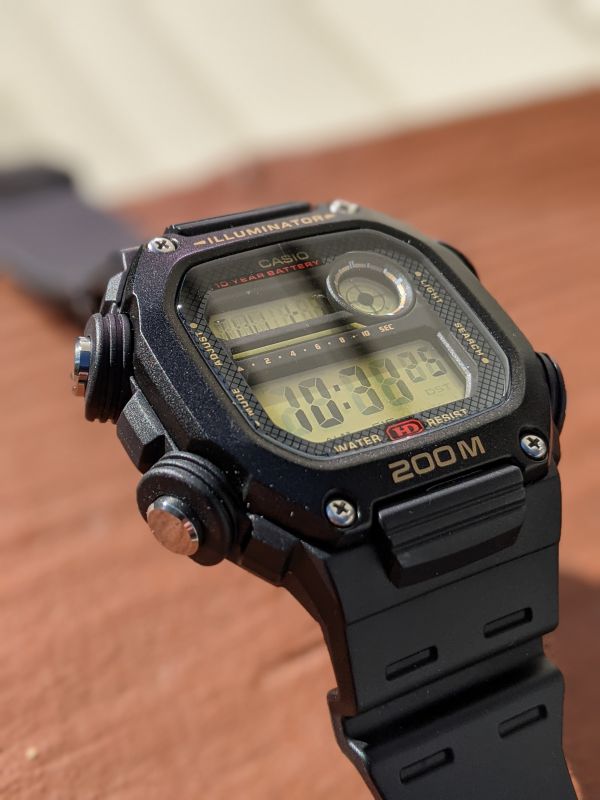 The Casio DW291H-9AVCF (black bezel version) is a digital watch in their Heavy Duty series, hence the red 'HD' on the face.
The 291H has some clear advantages vs. the old classic DW5600 G-Shock that are way beyond its lower price.  Let's dive in. (200 M limit, please.)
What's in the box
One DW291H watch
Manual in English, Spanish and French
1 year warranty sheet
Hardware specifications
Height: 'Lug to lug' 50mm

Width:  46.5mm, (50mm button to button)

Case thickness: ~13mm

Band connection:  18mm 

Band:  26mm tapered to 20mm at buckle

Weight: 63 grams / 2.2 oz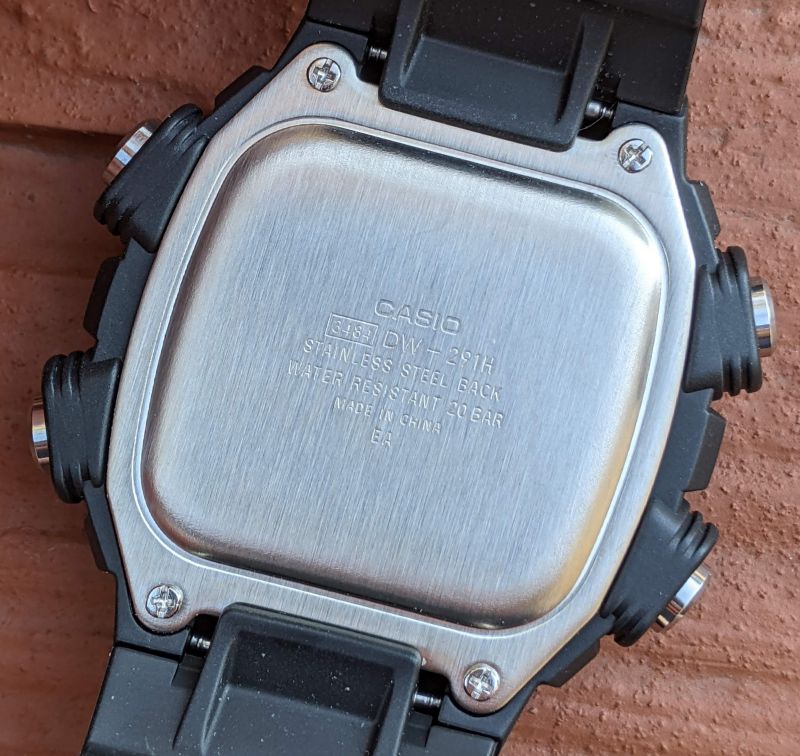 Design and features
Great looks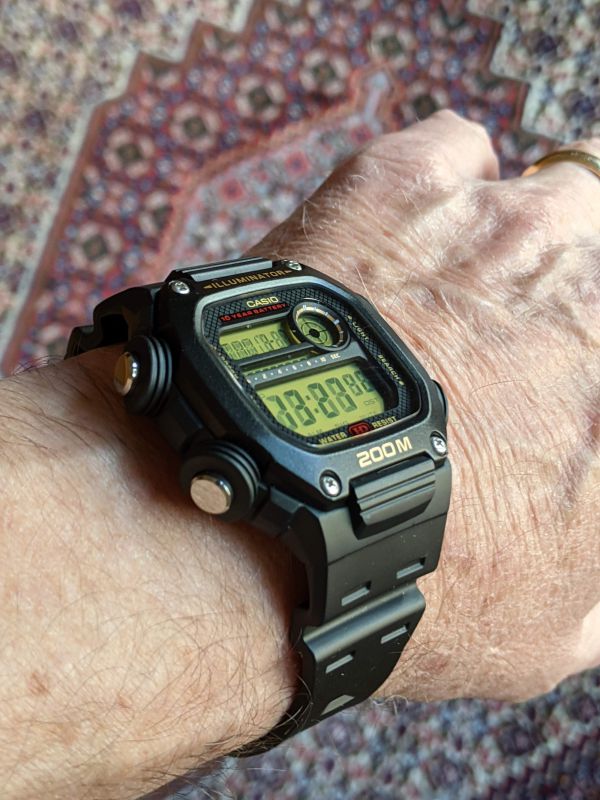 The 291H has a rugged look and I've never seen anyone wearing one, so you may enjoy a 'first on your block' thing.  The push-button guards haven't appeared on any watch other than 'sort of' on Casio's DW290, and then they only used them on the bottom 2 buttons.  These guards are the same hard resin as the rest of the case. Some wish they were squishy rubber but that would probably fail before the battery does.
There are 2 other color variations. The 1AVCF with gray LCD, silver-gray bezel combo, and the 1BVEF with gray LCD, silver-gray bezel and a red surround panel under the crystal. 
Backlight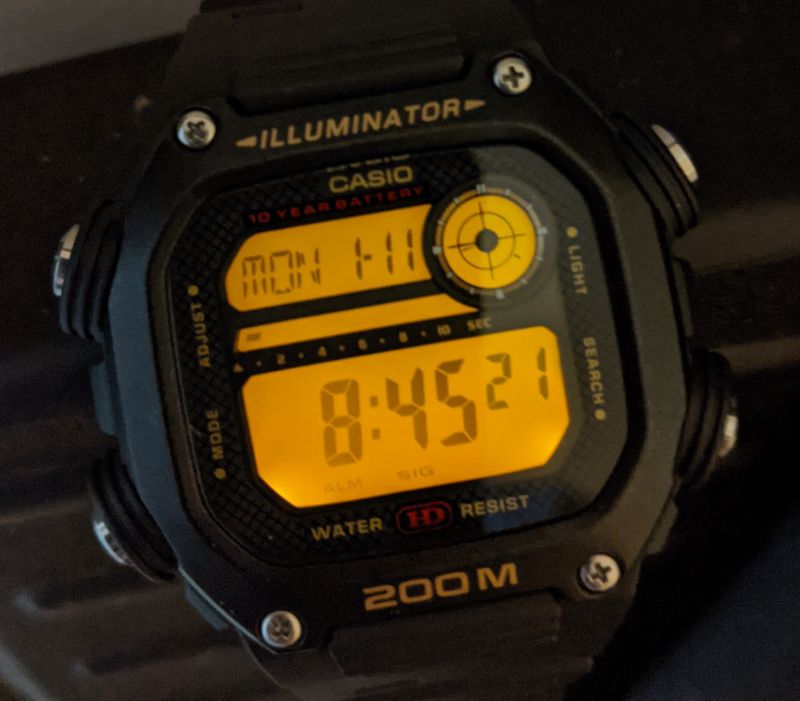 This shot is with ambient light in the room.  In partial or full darkness the backlight is great.
The amber backlight is generated from two LEDs located on the lower left and lower right screen corners.  They nicely illuminate the entire dial but won't be a disturbance at a movie or performance.  You can set the light to stay on for either 1.5 or 3 seconds from a single button push.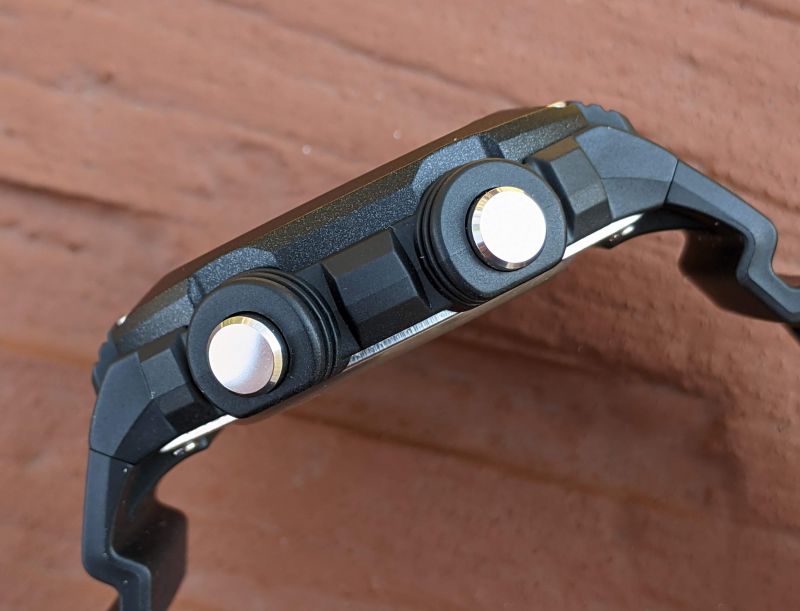 World Time
There are 4 time zone 'spaces' you can preset to any of 48 cities in 31 time zones across the globe.  
Alarms
5 alarms can be set to either alert you daily or as one-time alarms that would not trigger again unless you manually turn them on again.  
Timing
The countdown timer is a plus for so many things.  Casio puts only a stopwatch function in its cheaper watches and that just won't do when grilling, baking, making tea or needing an alert for any 'must notice now' event.  Both should be standard features and the 291H has both countdown and stopwatch style timers.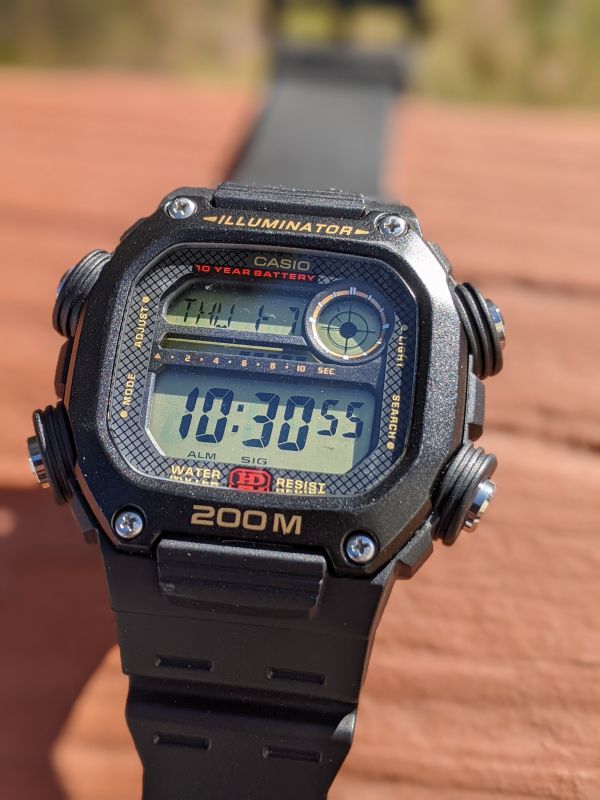 When does a tech-guy not use a smartwatch?  I had a Pebble (by Julie's push), an Asus, and now own two Samsung smartwatches – but for me, it's when I tire of everyday charging and / or being hyper-connected.  And when I want guaranteed water resistance (water-proof requires serious proof) and would like to wear one timekeeper 24-7, for days on end.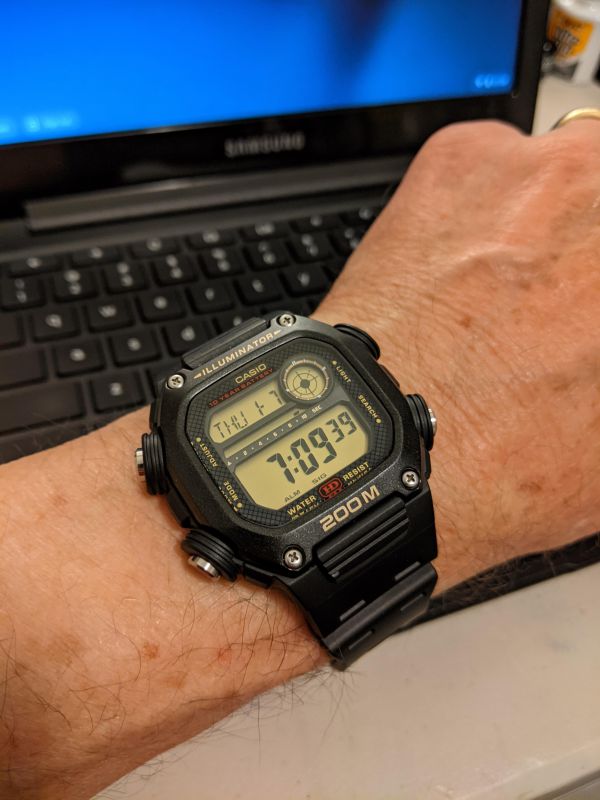 As best I can tell this watch is about a year on the market but I still have never seen it in stores. It passed me by until this Christmas season when I spotted it online. It was love at first sight fully confirmed when it showed up via Amazon.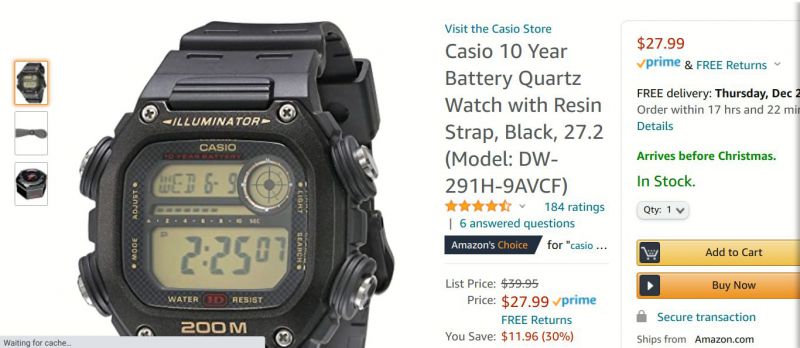 What I like
This macho-chunk watch fits my 7.25" wrist comfortably but doesn't look like wearing a wall clock. My daughters haven't accused me of buying the 'large print edition' – and they would if it crossed their minds.  The 291H is lightweight, has a bold design with great digit visibility, an outstanding backlight, and suitably audible hour chime and alarms without being obnoxious.  Those are easy to push buttons, even with gloved hands, and few can make that claim.  The world time zones, countdown timer, and multiple alarms are features I use daily.  The gold LCD is a new favorite for me. The color is really tough to portray in pics.  In real life, it's more towards gold, not green and definitely not gray.   Of my dozen-plus digitals over time, this is a welcome first.  And 10 year battery?  Even if it's a 7 year battery, cool!
What I'd change
Fix the nearly invisible, barely legible, round analog clock window. C'mon Casio, you've done that function better on models cheaper than this one.  An identical smaller 291H version would likely broaden the appeal to men or women with smaller wrists.  The time of day in the home timezone should appear in the timer and stopwatch screen and does so on some other Casios.  But, this is a $30 watch.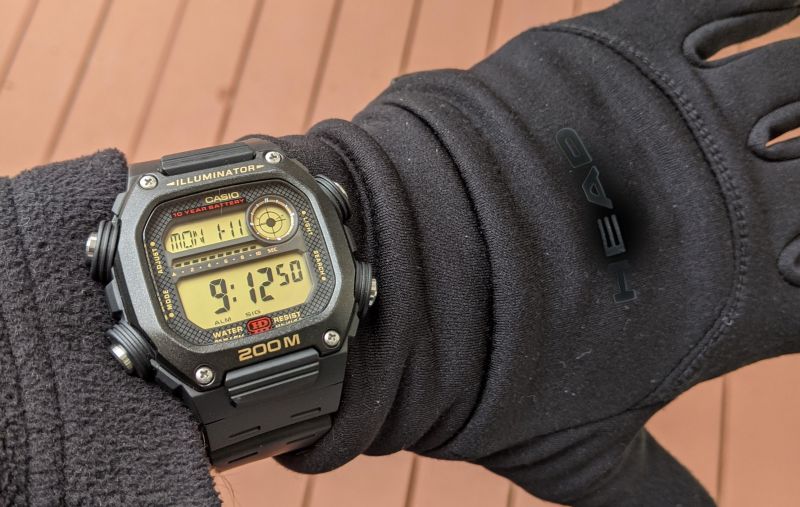 Final thoughts
While not a Casio G-Shock watch, for $30 after tax (Amazon Prime) it's a close enough cousin with 200 meter water resistance, very long life battery, and has advantages over some G-Shocks such as an adequately louder alarm sound, larger digits and easier to manipulate buttons.  If I wanted to spend $60 I'd pass on the G-Shock 5600 in favor of the DW291H. I actually did just that.  
Price: $39.95 MSRP
Where to buy: Amazon
Source: The sample for this review was purchased with my own funds.
Support The Gadgeteer
:
We may earn a small affiliate commission from purchases made from buying through links on our site. As an Amazon Associate I earn from qualifying purchases. Learn more.