We use affiliate links. If you buy something through the links on this page, we may earn a commission at no cost to you. Learn more.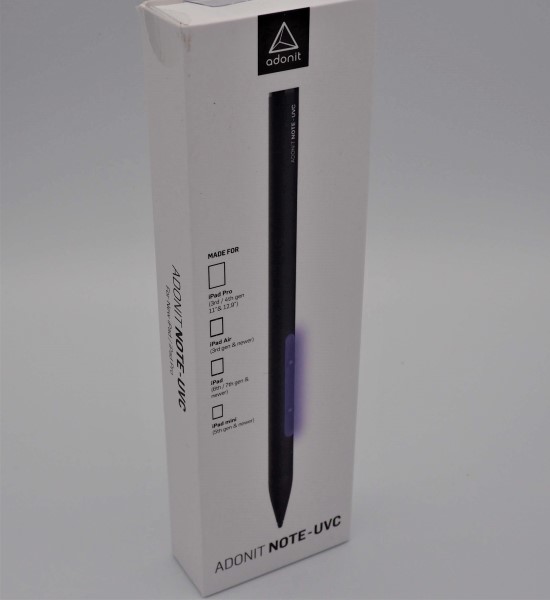 REVIEW – I've been at least mildly germophobic as long as I can remember (I'm a constant hand-washer, among other things), so the opportunity to review this Adonit Note-UVC stylus was intriguing (especially during this COVID-19 pandemic).  This stylus sells for less than the Apple Pencil, with the added benefit of a germ-killing UV-C light built in.  I was curious to see if the basic stylus functionality was sub-par, as is often the case with multi-purpose gadgets.
What's in the box?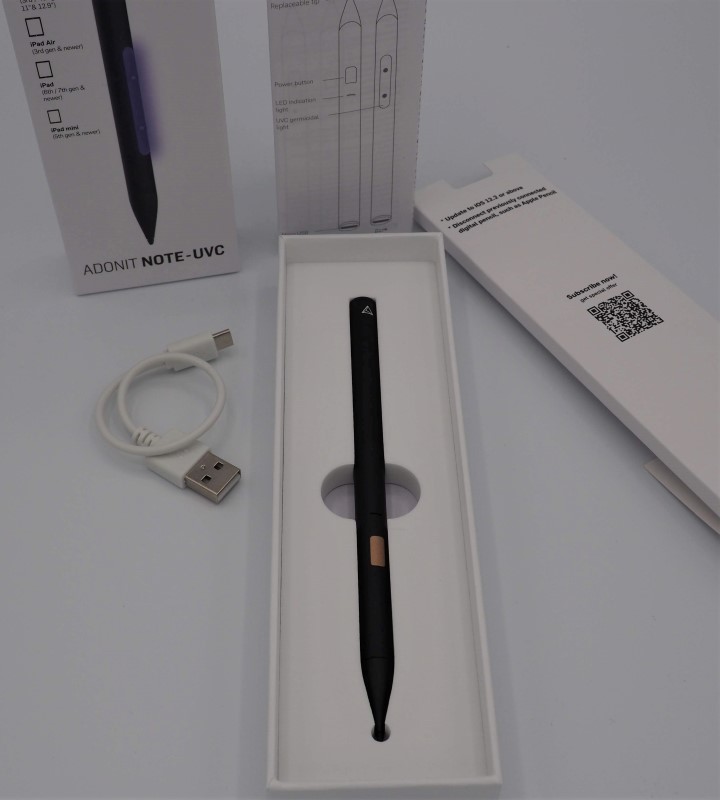 Included in the box is the Adonit Note-UVC stylus, a tiny micro-USB charging cable, and a quick start guide.
Hardware Specs
UV-C Light – 270-280 mm wavelength
30 UV-C light uses / charge
12 hours of stylus-on battery life
Tip size: 1 mm (replaceable)
Active Stylus
Design and Features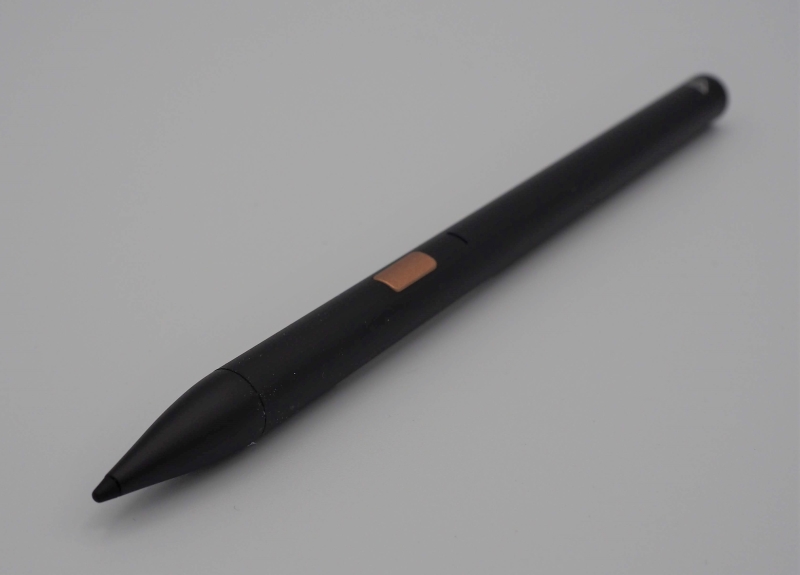 I like the design on this stylus, it has an aluminum body that feels nice in the hand.  The finish is well done, this doesn't feel cheap like other plastic styli I've used.  The stylus is about the same size as your standard pen, making it feel natural to wield.  The power/light button is a nice copper color, which is unique.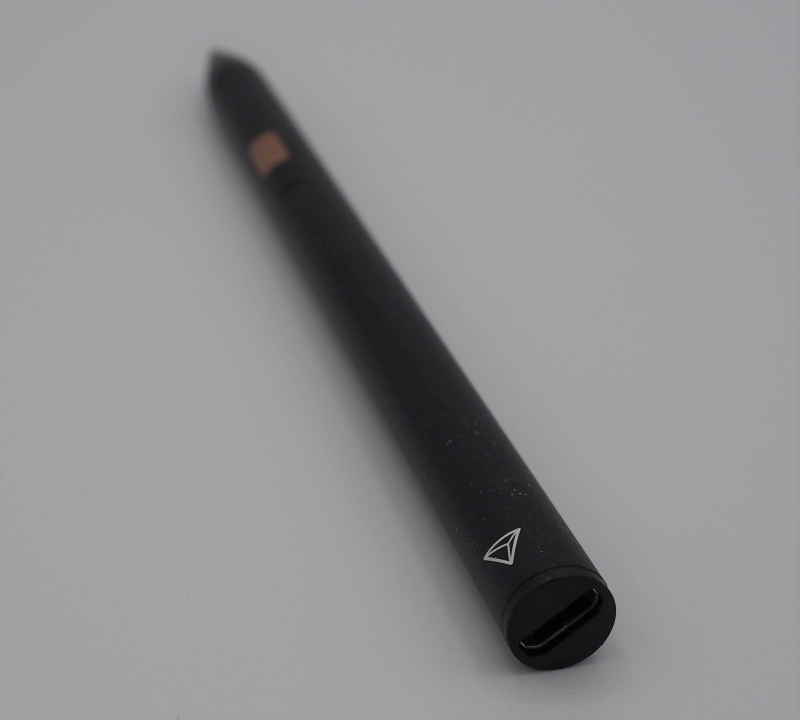 The charging port is located on the top of the stylus, it's a micro-USB port which seems dated now.  If I could change one thing on this stylus, it would be this charging port – I normally carry USB-C and Lightning connectors, which covers every other gadget I use daily.
Installation and Setup
Installation is dead-simple, I just powered on the stylus and started using it (tested on an iPad Pro 11 2019).  I've had no issues with the connection, there are no extra apps required, and it worked with various note-taking and drawing apps as expected.  The Adonit Note-UVC stylus is compatible with most recent iPad models, including standard iPads, Airs, and Minis (check Adonit for compatibility).  I tested with a 1st generation Ipad Pro 11.
Use and Performance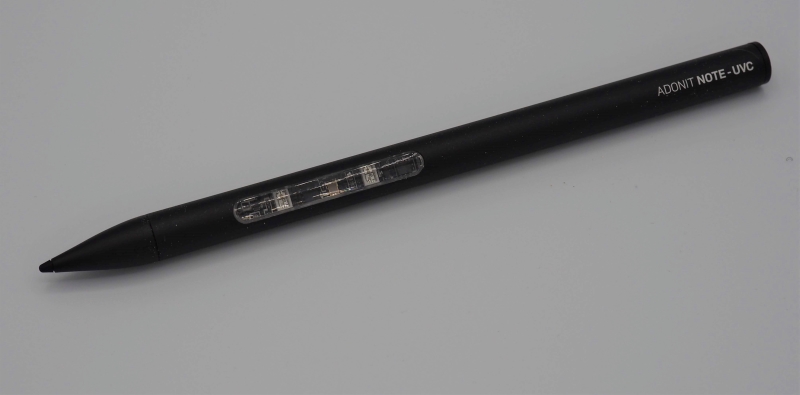 Overall, the Adonit Note-UVC stylus was pleasant and easy to use.  I tested it with basic handwriting for note-taking, and some (awful) attempts of art. This stylus doesn't support tilt or pressure sensitivity.  For general handwriting, I didn't notice any difference from the Apple Pencil at all, except that I couldn't use the tap-functions that I'm used to with the official Pencil.  I'm no artist, but I'm sure if you were doing digital arts, you would miss those functions and the tilt/pressure sensitivity.  The stylus turns itself off if you forget to power it down, saving battery life.  I was able through many days without recharging during my test period, I'd expect Adonit's claim of 12 hours of usage as a stylus is probably accurate.  One minor annoyance was that the Adonit Note-UVC stylus doesn't have any clip or a magnet to stick to the iPad, so you need a case or a bag with a pen storage spot.
Germicidal Performance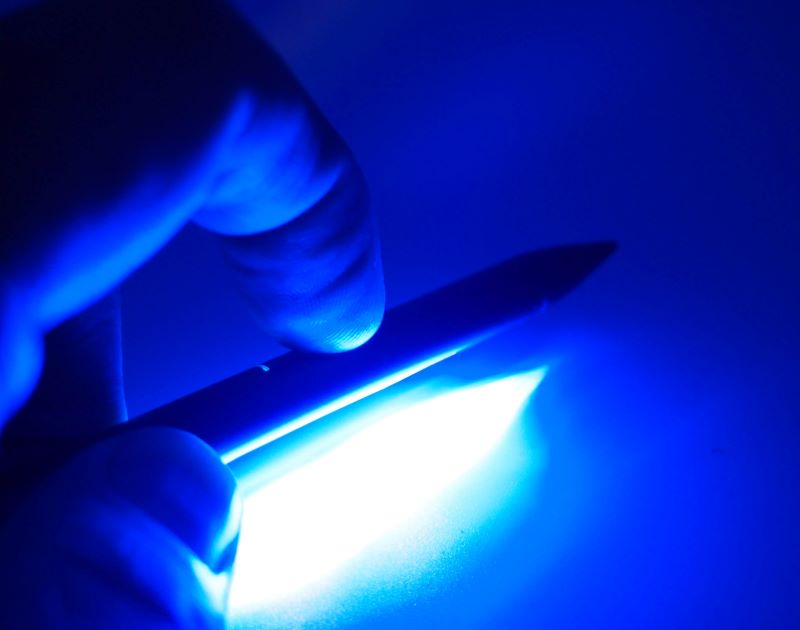 Ultraviolet light is used to sterilize medical equipment, and in the midst of the global COVID-19 pandemic, multiple governments have started using UV-light devices to sanitize public spaces and mass transit.  However, it seems that in medical settings they treat surfaces for a long time to kill all bacteria and viruses, I'd be very curious to see actual scientific testing on the efficacy of small handheld devices like this.  The light is very easy to use, a long press of the multi-function button activates a 1 minute timed UV-C light session.  It even has sensors to automatically shut off the UV-C light if you point the light up, which worked perfectly – if you drop the stylus you won't blast yourself with UV-C light rays.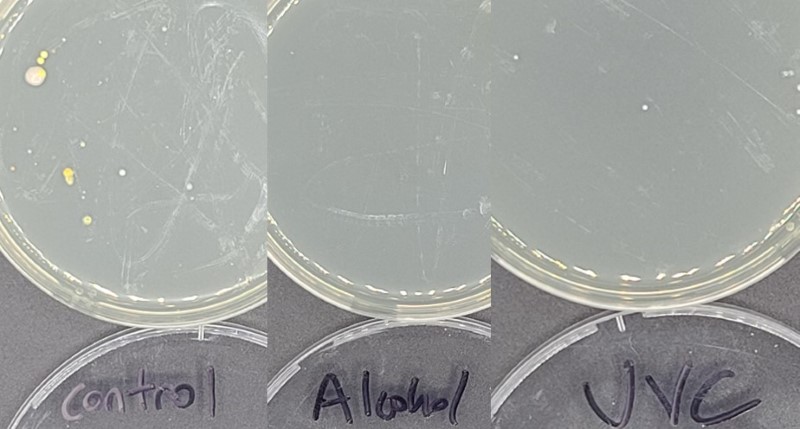 I decided to perform a decidedly non-scientific science-fair-style experiment to measure the germ-killing capability of this device.  I took swabs from my well-used-and-rarely-cleaned tablet:  first, a control swab of the untreated surface, then I cleaned half the tablet with 70% isopropyl alcohol, and the other half with the Adonit Note-UVC stylus's light.  I wiped the swabs on Petri dishes with sterile medium, and incubated for 72 hours.  Again, this is unscientific (sample size is too low!), but I was surprised at how few bacterial colonies grew from the UV-treated swab.  In the picture above, you can see the untreated control swab grew a healthy number of colonies, the alcohol-treated swab grew nothing, and the UV-treated swab grew almost no colonies.  These visible colonies only represent bacteria or fungus – viruses don't reproduce on Petri dishes like this, they require a living host.
Adonit's website has an "Approved" graphic with blurry forms, but I can't find any cited research or approvals on their site, so I'm not sure if that's just unfounded marketing or actual scientific/governmental approval.
What I like
Solid performance
Long battery life
Germicidal light seems to do something
No 3rd party app required
What I'd change
Micro USB needs to be phased out, would be nice to be USB-C
Pressure/tilt sensitivity
More research/proof of germicidal capabilities
Built-in magnet to grip to the iPad or clip for storage
Final Thoughts
If you're looking for an active iPad stylus that also has an ultraviolet germ-killing light built in, this is a good option.  For note-taking and handwriting, it works great.  However, if your primary purpose for a stylus is digital artistry, you'd probably be happier spending extra to get a separate UV-C light and an Apple Pencil.
Price: $69.99
Where to Buy: Adonit and Amazon
Source: The sample for this review was provided by Adonit