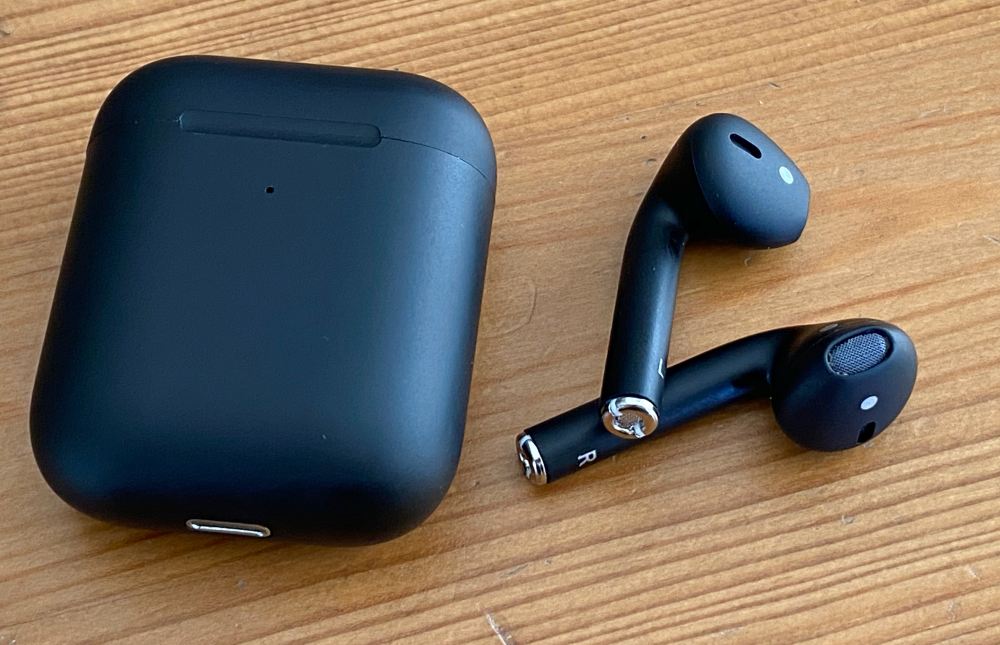 REVIEW – There's no question that Apple hit it out of the park with their Airpods. It's also a pretty safe bet that they got A LOT of requests for a black version. Well if that's your line of thinking, you should check out BlackPods 2 from Lectrify. Let's jump right to the review because there's a lot to learn about.
What is it?
Black Pods 2 are a pair of totally wireless earbuds complete with their own charging case that includes a built in battery.
What's in the box?

BlackPods charging case
BlackPods 2 L&R earphones (shipped inside the charging case
Charging cable (USB-A to Lightning) cable
Instruction guide
Hardware specs
Power: DC 5V input via included USB lightning cable
Battery: 3.7V, 50mAh
Talking Time: 2-3 hours
Charge Time: 40-50 minutes
Profiles Supported: HSP/HFP//A2DP/AVRCP
Sensitivity: 120db
Frequency Response: 20-20,000Hz
Impedance: 32Ω
Design and features
Visually, the BlackPods 2 are look a dead ringer for Airpods except for the fact that they come in the matte black color you wanted from Apple all along. (First generation Apple Airpods shown on the left below.)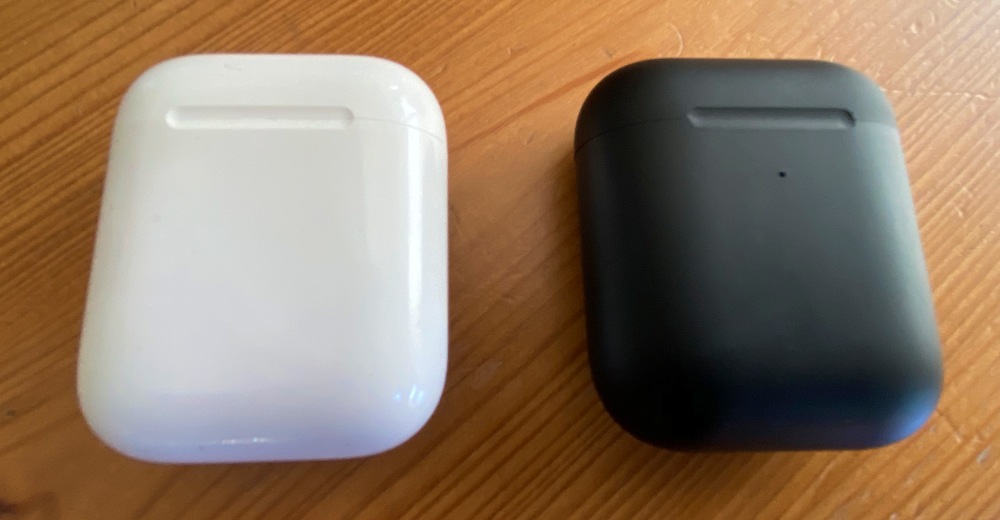 Both the case and the pods themselves have a soft-touch coating which has a silky feel.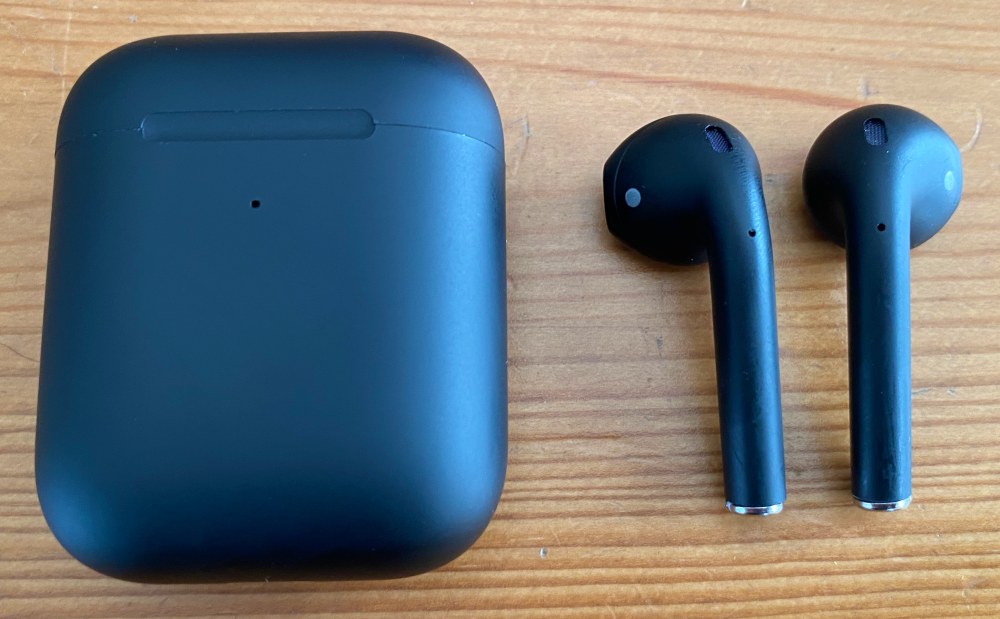 The case charges with the included lightning cable, and the pods will charge any time they are in the case provided the internal battery has a charge or is plugged in.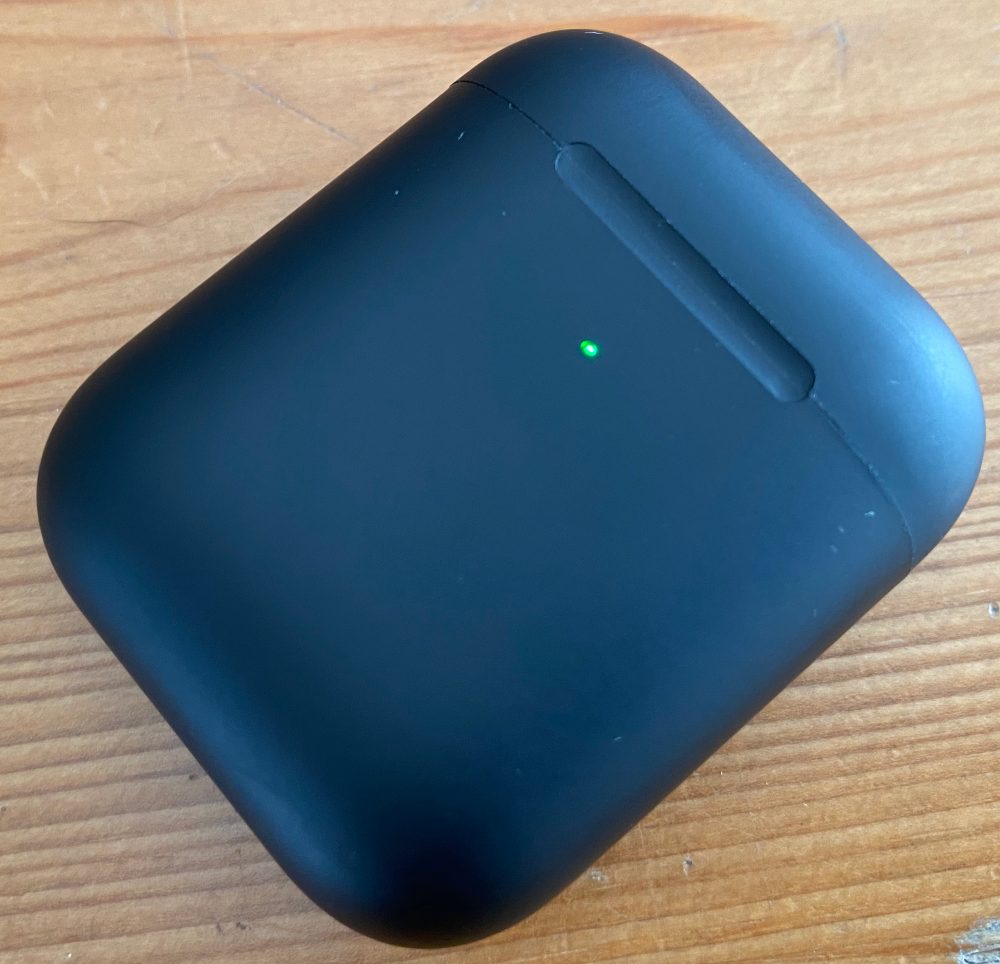 There's an LED on the front which lights up if the lid is opened or the case is first connected to power. This is a nice change from the original Apple Airpods where the only LED was inside the case between the pods. The BlackPods themselves look exactly like Airpods and even fit in the Apple charging case (although they don't charge).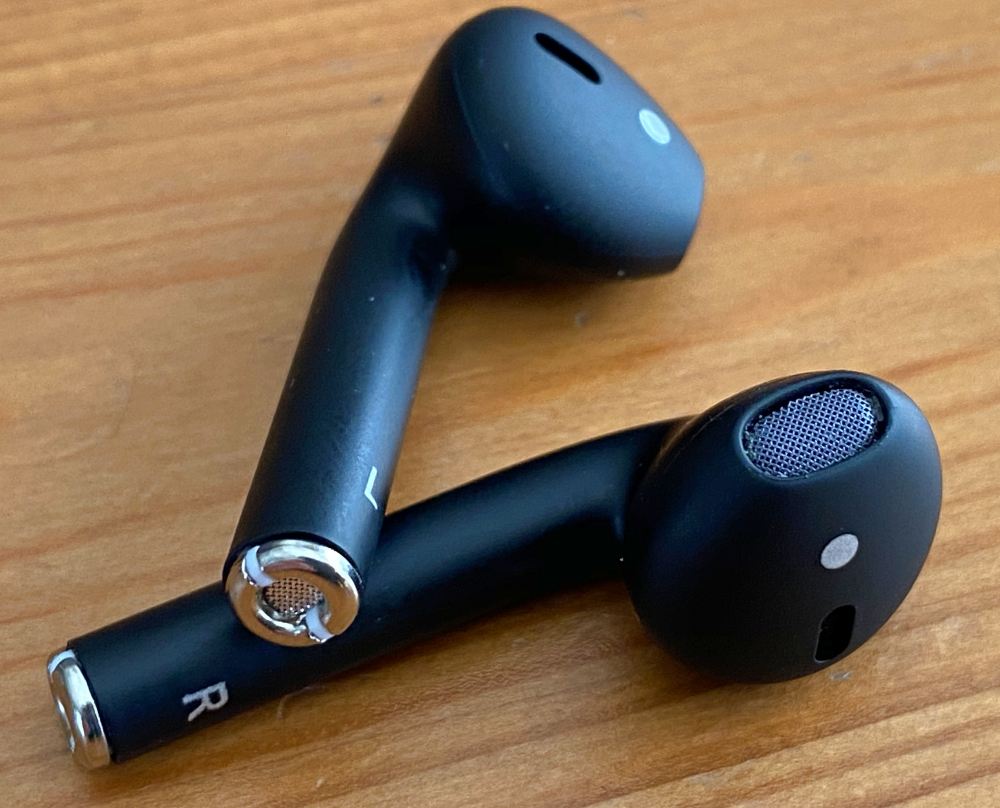 Above you can see the fine mesh protecting the audio driver in the earpiece and the same mesh protecting the microphone at the bottom of each arm as well as the split contact ring that handles charging while in the case.
BlackPods 2 are available in either the matte black (shown above) or gloss white (the latter feeling like it might cause some confusion… Gloss White BlackPods…).
Setup
As with any electronic product, you should connect the charging cable and get to a full charge before using the first time.
When it's time for first use, open the case lid with your phone or tablet nearby. You'll see a pop up asking you to connect. After confirming it instructs you to hold the button on the back of the case and then automatically connects.

Once connected it will show the battery status of both the pods and the charging case. In this case my daughter had already paired them to her phone, so the name she had given them popped up after pairing.
They're now ready for use, but you'll want to head into your bluetooth settings for the pods and customize a couple of things.
Name them something fun
Choose a function for Left double-tap
Choose a function for Right double-tap
Decide to use Automatic Ear Detection or not
Set Microphone sensitivity
Here's what those screens look like including a swipe right from the home screen where you can see that the battery levels show up in the iPhone's Control Center.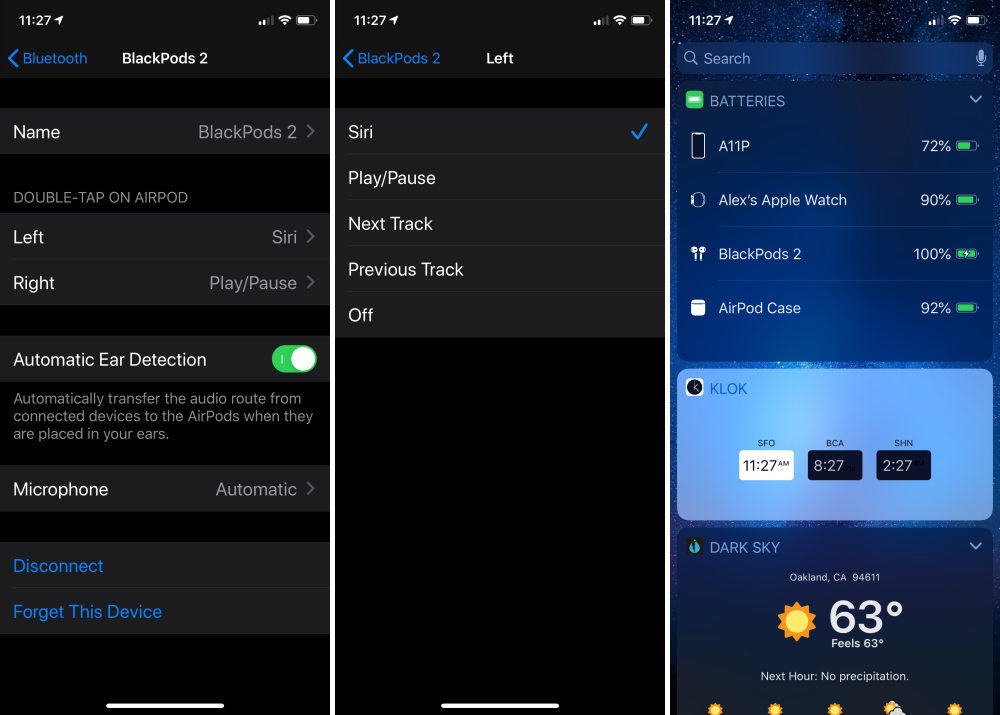 They'll also connect to Android devices just fine. Just head into bluetooth settings on your device and pop open the BlackPods case lid holding it close to your phone.
Performance
Okay. What should you know about BlackPods 2?
First, if Apple's earpods (the wired ones that came with your iPhone) or their (non-Pro) Airpods fit your ears, then have no fear! The fit of these is on par and the soft-touch finish may actually aid the fit and feel slightly.
If that fit is a no-go for you then these are a non-starter. It's actually bit of a triple whammy in that case as they'll fall out of your ears or move a lot, they'll mess with automatic ear detection as a result, and the sound quality will also take a hit. I purchased the original Airpods not long after launch and ended up giving them to my son because they just wouldn't stay in my ears.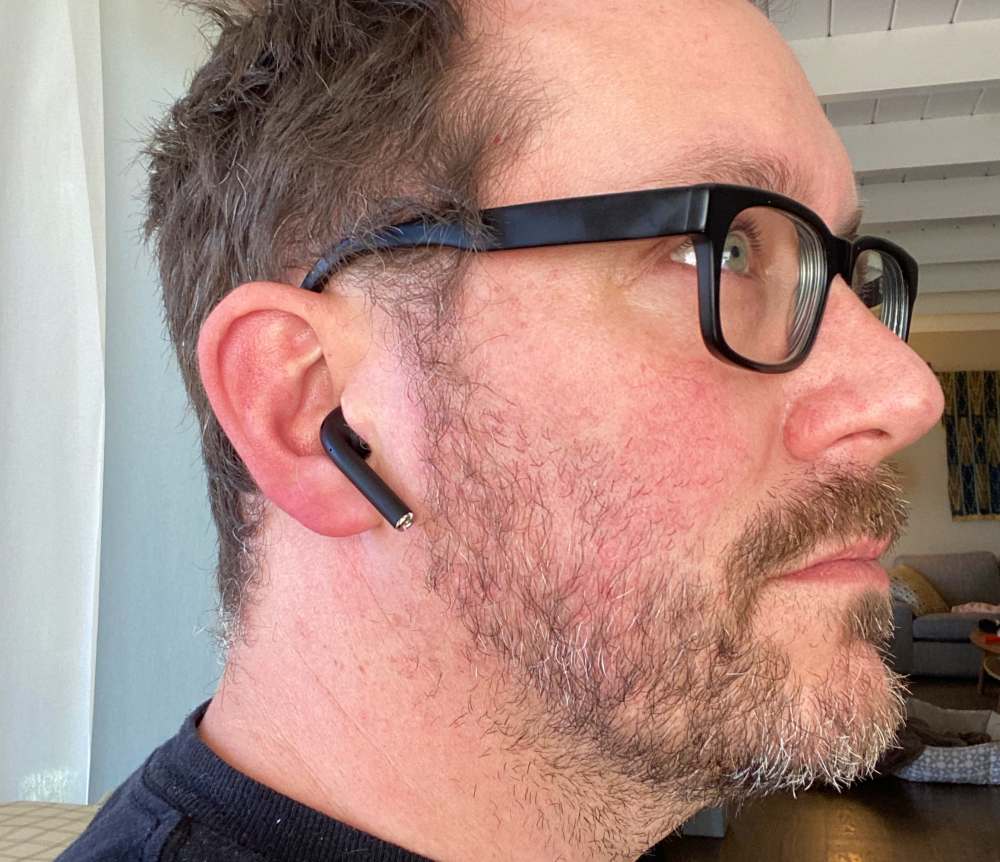 That said, the BlackPods seems to stay in my ears a bit better and I do think it's the matte soft-touch finish. It definitely won't help enough if I tried to do something active, but for office work (remember that?) or a stroll they stay put well enough.
Pairing is great on the initial setup using animated pop ups and everything. They also support multiple devices. Pairing to a 2nd device involves disconnecting the first and pressing and holding the button on the back of the case to pair with the new source. In general, as long as you disconnect, power off or leave range of the first source, you'll have no issue selecting the BlackPods 2 in a device you've previously paired to. I was able to pair my iPhone, iPad and MacBook Pro without issue. It is worth noting that they will not connect to two sources simultaneously, nor is there a handoff enabled where you can just click connect on the next device without first disconnecting the previous source.
One of the best things about the BlackPods 2 is the battery case. It's a super small form factor that easily fits in your pocket. Any time the pods are back in their case, they're charging. Lectrify states 2-3 hours of constant playback which matches what I found during the review period. It's rare that you'll run the pods themselves out of battery unless you're marathoning them on a flight or bus. A quick stint in the case charges them up quickly. You can also remove a single pod to charge up and then swap out.
As with Airpods, there are no physical controls for adjusting volume touch or otherwise. You are limited to asking Siri to volume up/down or using your phone to make adjustments. Both my daughter and I found the touch controls to be just that… touchy. The left one was somewhat reliable, but we repeatedly had trouble with the right one being non-responsive. Interestingly enough they both worked better with a single press rather than a double-tap, and worked most reliably if pressed as though you were pushing them deeper into your ears. If you are actively using your phone for all controls anyway I'd have suggested that you just turn off all touch functionality, but those touch controls continued to function even after turning them off in the settings panel. A return trip to the charging case didn't help either. So… I hope you like touch controls.
Listening to music or audio from a video was smooth and sounded better than I would have expected given the lack of seal. There was a fair amount of bass response and honestly the biggest issue I had was if I needed to adjust the fit in my ears it inevitably paused playback requiring another tap to restart. Annoying.
Another FYI. Opening the case and putting the pods into your ears automatically starts music you were previously listening to, even if you paused it prior to putting them away. Best luck is to quit the music app if that's not how you want them to work.
The microphone quality seemed good enough on a few Facetime and Zoom calls. It's not going to outperform a dedicated desktop mic, but it will get the job done.
This pop up would sometimes appear as I opened the case to use the BlackPods. It's shown here on my iPad Pro, but it wouldn't always show up and I could not figure out how to make it appear either. Strange.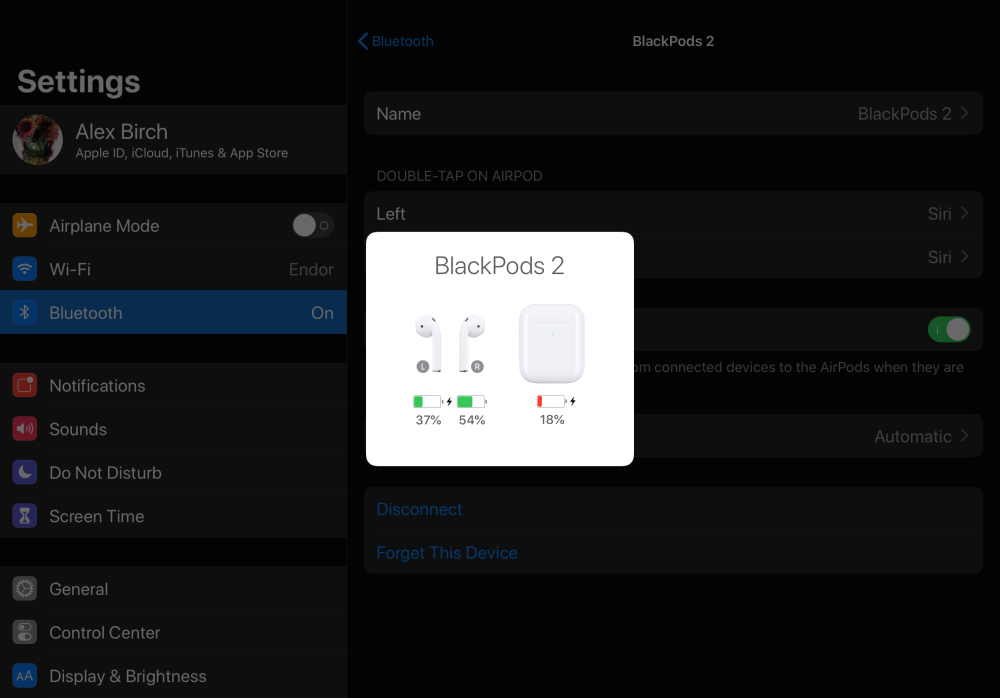 While pairing seemed to require setup in each device one at a time, if you go to remove them from one Apple device, it will let you know you're about to remove them from all your devices.
Lastly, there's a startup chime when they first connect that's expected, but I started getting pauses and then the chime repeatedly. Turns out the automatic ear detection was reading my head movement as a pod removal. I was literally able to turn my head to look over my left shoulder and the music would pause, and returning to look forward and it would start again. I confirmed this by turning off ear detection and the problem went away. It's a bummer because the auto pause functionality also goes away with this setting changed.
What I like
Matte black!
Great price
Good sound performance (if they fit)
What I'd change
Better touch controls or ideally, physical buttons
Enable better handoff between devices without having to disconnect first
Needs adjustable sensitivity on automatic ear detection
Final thoughts
The more I used the BlackPods 2, the harder this final paragraph became to write. If its "earpod" shape works for you, this might be a good budget option and hopefully, with improved ear fit in your ear, some of the other functionality can come back into play. There's more than a few quirks/annoyances to work around otherwise. If you need a "non-earpod" fit, you'd be better off checking out Lectrify's new BlackPods Pro model.
Price: $44.95 (normally $60)
Where to buy: Lectrify BlackPods 2
Source: The sample of this product was provided by Lectrify
Support The Gadgeteer: The Gadgeteer's main sources of revenue are advertising and affiliate links in articles like this one. Even though we may receive compensation, we always give our honest opinions about our experiences with each product.