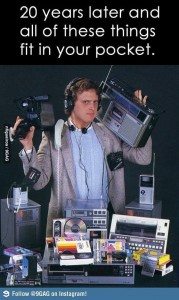 Reporting on CES, NY Times columnist Farad Manjoo, in an article titled In a World of Phones, Gadgets Must Adapt, speaks to a Gadgeteer's greatest fear: getting a gadget that is no longer needed because of being subsumed by your phone. I saw this meme-type photo the other day and this story reminded me of it. I either had or lusted after every single item in that picture, down to the language dictionaries and the TRS "notebook" on the bottom right, but now every single item there – and more! – lives in my iPhone. Drop a wallet on that pile, too, now that Google Wallet and ApplePay are real things. So, now, those gadgets of the past are filling up junk drawers, antique shops, and doing other things, rather than fulfilling their initial purpose. It's all just an app on your phone. And, from the article's perspective, this isn't going to change soon, so you'd best buy your gadgets with that in mind. (Can the brains of this thing be transferred to my phone with a good app UI? If so, how? And can I just build one?)
We live in marvelous times!
Support The Gadgeteer
:
We may earn a small affiliate commission from purchases made from buying through links on our site. As an Amazon Associate I earn from qualifying purchases. Learn more.