We use affiliate links. If you buy something through the links on this page, we may earn a commission at no cost to you. Learn more.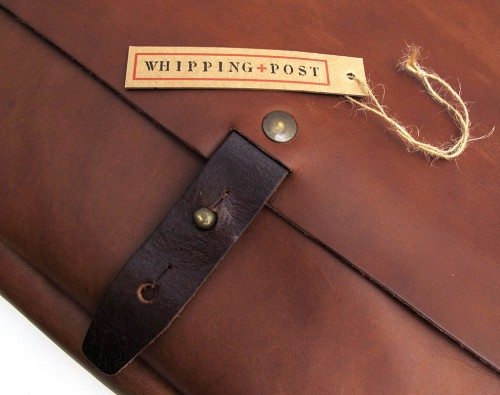 When it comes to my every day gear bag, I'm very picky. It has to be the right size, right weight, right capacity and it has to look good. I've been carrying a Timbuk2 messenger bag for as long as I can remember, so I figured it's time to broaden my horizons and try something new. First up is the Whipping Post Vintage Messenger bag.
Note: Images can be clicked to view a larger size.
Whipping Post's back story
If you're a regular visitor here at The Gadgeteer, you've probably heard of Saddleback Leather Company. They make incredibly rugged leather bags and accessories that are very popular. Ryan Barr, the founder and owner of Whipping Post mentored with SBL:
"I was getting started working with leather and actually started Whipping Post, Dave Munson of Saddleback took me on and mentored me, as I was getting my footing he actually let me work for Saddleback and learn the business. We have different styles, but he's been very influential.

I do all the design work and we do manufacturing in Mexico as well.

The name Whipping Post is actually inspired by the song Whipping Post by the Allman Brothers. In the song it's actually a metaphor for the way he's been treated, but I like that a Whipping Post is designed to take abuse. We hope the products we make will be able to take whatever abuse you throw at them and stand the test of time :)"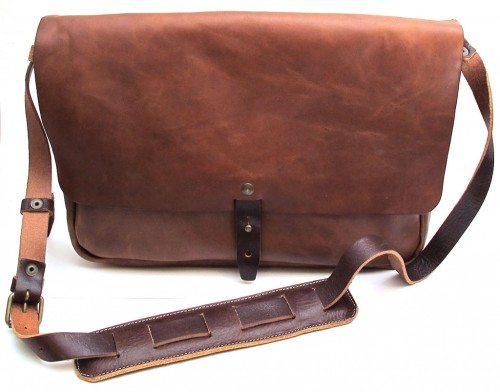 Styled after leather postal worker bags from days gone by, the Vintage Messenger looks old and new at the same time. It has a classic look that I absolutely love. There's nothing gaudy or flashy about this bag. It has a very simple style without logos plastered all over it. That doesn't mean people won't notice it. It's hard not to notice (and smell) the gorgeous aged brown stained vegetable tanned leather that is both soft and supple.
The Vintage Messenger has an overall size of 18.5 x 11.5 x 4 inches and weighs in at 3.5 lbs empty.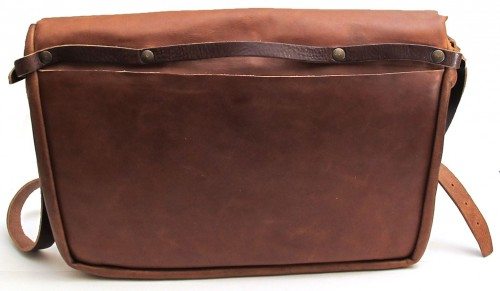 Flip the bag around and you'll see the simple grab strap that keeps the style of the bag lean and mean instead of adding a bulky grip handle to the top.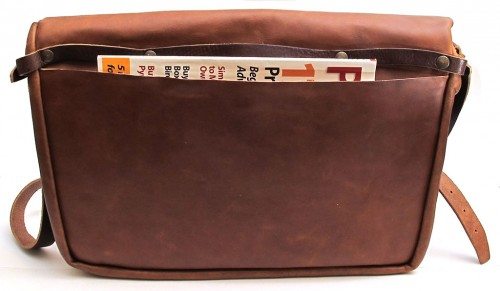 Also on the back of the bag is a large flat pocket which is large enough to hold magazines, newspapers or other flat documents.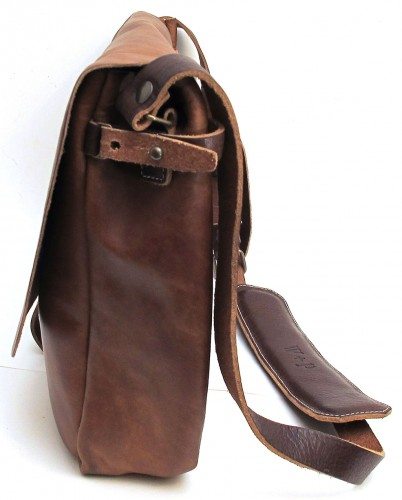 The bag has an adjustable padded shoulder strap that is surprisingly comfortable except for the buckle that rubs against my breast bone when I wear it bandoleer style across my chest. Most people probably won't notice this issue. I only notice it because don't have any "padding" up there anymore due to the big C. It doesn't bother me at all when I have jacket or thicker shirt on.
Even though this bag is more narrow than my Timbuk2 messenger bag, it is still able to stand up instead of falling over. Of course it would depend on what you put in the bag.
The bag has a large flap that can be secured with a leather strap which has a post and slot style design. I wasn't sure if I'd like this type of closure "mechanism", but for the times when I've used it, it is easier to deal with than a metal buckle. For the most part, I just let the flap hang loose.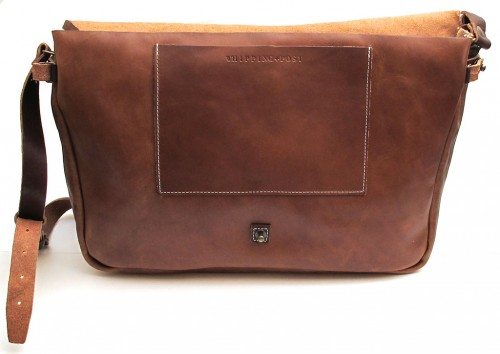 The leather is soft enough that it's easy to flop the flap behind the bag. When you do this, you reveal a nice sized flat pocket.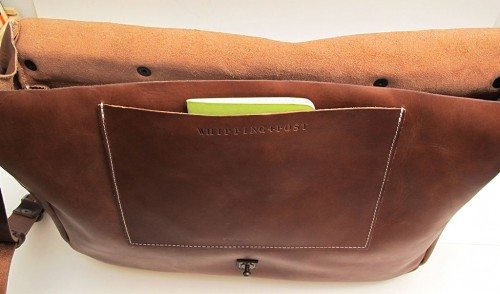 This pocket is large enough for a wallet, phone, small notebook, etc. I've shown a Field Notes notebook peeking out of the top to give you an idea of the size.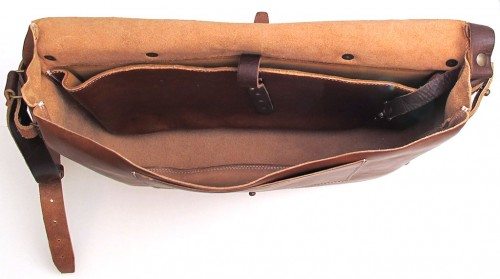 Inside is the main compartment which is just a large open space with a suede lined and padded laptop sleeve sewn into the back wall of the bag. The sleeve is large enough that it can accommodate up to a 15″ laptop. I tested both a 13″ Macbook Air and a 15″ Macbook Pro. Both fit fine.
You might also notice from the images, that the bag and flap are made of one layer of leather with cut raw edges. Some people might think this style of construction is too simple, but I like it. There may be some concern that the leather might stretch – especially when carrying a laptop. The laptop sleeve is made of multiple layers of leather and padding, so I don't really think that will be an issue.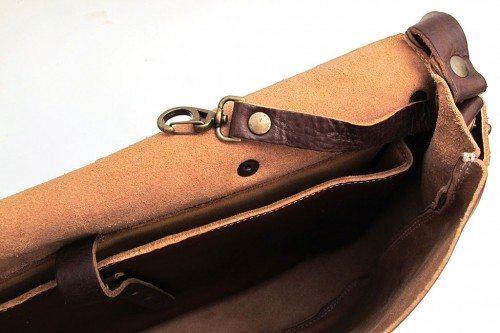 Attached to one side of the bag is a key clip on a narrow strap of leather. I don't normally use these types of clips which seem to be attached to most bags.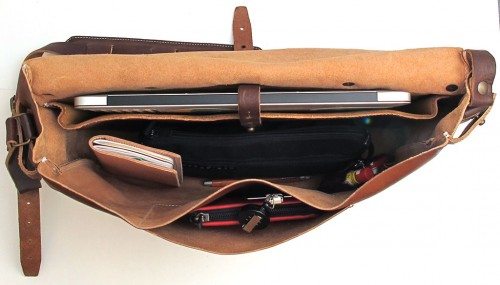 The main compartment is roomy enough to hold a lot of gear, but the lack of other slots and pockets means all the items end up scattered at the bottom of the bag making it difficult to find your smaller items.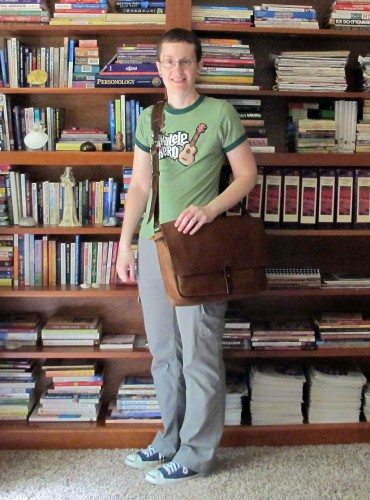 This is the first all leather bag that I've reviewed which I have ended up loving. Unlike other bags, this one isn't bulky or heavy, even when loaded it down with all my normal gear. I found the Whipping Post Vintage Messenger bag comfortable to carry and large enough to hold all my stuff. It's made very well and looks fantastic. The only area for improvement would be to add some interior slots and pockets to help organize the gear. I like this bag so much that I have plans to modify it to add my own organization panels and snap them into the sides of bag. I'll report back with some pictures after I do. Until I modify it, I'll be using it as is because it's a definite keeper and I can't wait to see what they come up with next.
Product Information
Price:
$265.00
Manufacturer:
Whipping Post
Pros:

Classic style
Not too heavy
Soft leather
Grab handle

Cons:

Not enough pockets to organize your gear