The Gadgeteer is supported by readers like you! If you buy something through links on our site, we may earn an affiliate commission at no cost to you. Thank you! Learn more.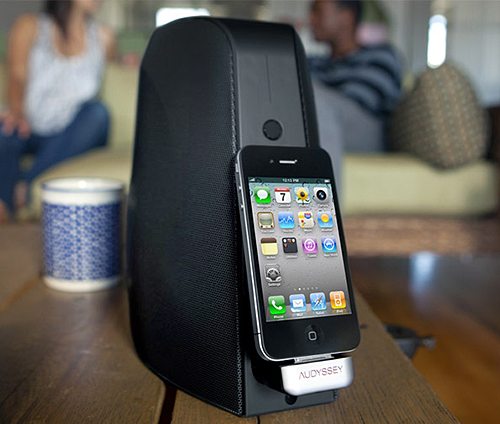 Audio company Audyssey has laid down the gauntlet to other makers of iPod/iPhone speaker docks with "The Audyssey Audio Dock Challenge," a sweepstakes where potential customers can compare the Audyssey South of Market Audio Dock speaker to any speaker of their choice for the chance to win an Audyssey Audio Dock of their own. More details after the jump.
Robb Mason, Audyssey vice president of marketing, says, "The Audio Dock has received fantastic acknowledgement from the press and the customer reviews we read online are nothing short of stellar – that feedback became the catalyst of this contest. While we are thankful for the reviews, we know the best way to sell a speaker is to let the customer hear how it sounds rather than blindly make purchasing decisions. With that in mind we're challenging people to let their ears be the judge and put us head-to-head with any audio dock out there. We hope this gives people a reason to check it out and we're confident they'll be surprised by what they hear."
Learn more about the contest at www.dockchallenge.com and 10 people will get a chance to win their own South of Market Audio Dock. Fill out the online form and get a $50 gift certificate toward the purchase of the Audyssey SoMA Dock. The contest is open until June 17, 2011. Winners will be chosen a week later and posted on the Audyssey website.
Note: The Gadgeteer will be reviewing the South of Market Audio Dock in a couple of weeks. Stay tuned!