The Gadgeteer is supported by readers like you! If you buy something through links on our site, we may earn an affiliate commission at no cost to you. Thank you! Learn more.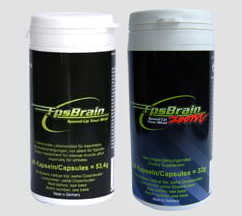 The folks at FpsBrain claim that their FpsBrain capsules support gamers nutrition and optimizes capacity of reaction and concentration. While their latest product FpsBrain Zoom strengthen and protect gamer's eyes when they are under particular strain. The ingredients of each include:
FpsBrain: L-tyrosine, L-glutamine, Choline, Vitamin C, Vitamin E, Niacin amide, Vitamin B2, Vitamin B1
FpsBrain Zoom: Ascorbic Acid, Vitamin E, Niacin Amide, Calcium Pantothenat, Vitamin B6, Vitamin B2, Vitamin B1, Vitamin B12, Folic Acid, Biotin, Vitamin A, Zinc, Beta-Carotine, Bilberry Anthocyanines, Taurine, Lutein, Lycopene, Zeaxanthin
Quite a few of the ingredients look like the same things you'd find in normal multi-vitamins that you can buy at Walmart. Each bottle contains 60 capsules for 19.90 Euros (approximately $27.00) which seems really pricey to me. FpsBrain offers a 110% money back guarantee though. Do you think that popping pills can improve your pwnage skills?