Years ago, in a gadget land far far away… There were no PDAs. There were no cellphones. No Apple iPods or Nintendo DS Lites. The time was called the 70's and the amazing gadget of that time was the LED wrist watch. I still remember when my Dad bought one for my Mom. Oh how I wanted that watch with its black face and tiny Red glowing digits. The folks at LED Watch Stop help bring back those days of yesteryear with the MAJESTYK Retro 70s Style LED Watch.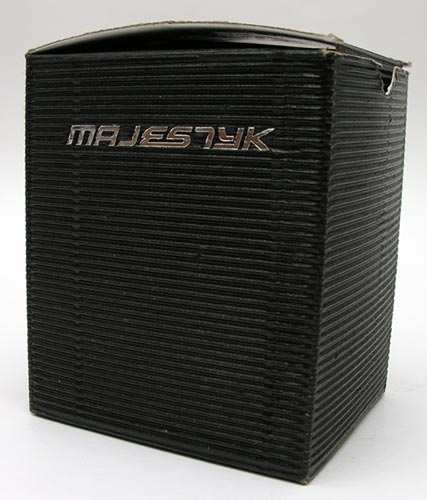 The watch arrived in a Black ribbed box. Even before I opened the lid, I knew this watch was going to conjure up memories of The Brady Bunch, Tiger Beat magazine and bean bag chairs.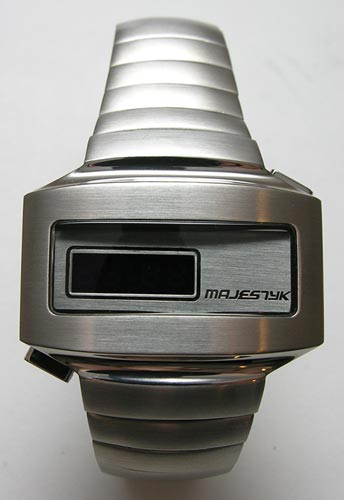 I almost needed a crane to pull out the watch given its enormous size and weight. The face of the watch measures 1.875 x 1.00 x 0.50 inches. It weighs in at 5.8 ounces (approximately the same weight as my Treo 750v!).
Made of stainless steel with a brushed finish, this watch is a chunky masculine time piece. Some might say it's ugly. I say it's… just retro. There were only 500 of this watch made, so it's a collector's item.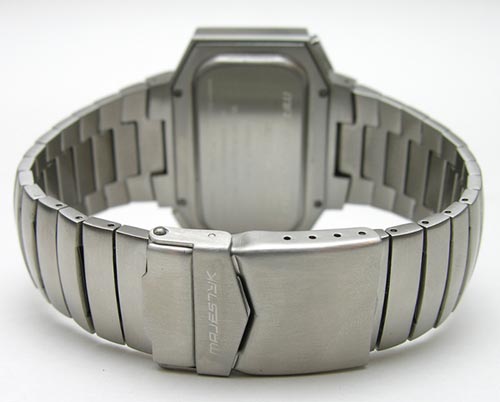 The wrist band is a metal link style and accommodates wrists 5.5″ to 9″ in diameter. To adjust for wrists smaller than 9 inches, you have to remove links.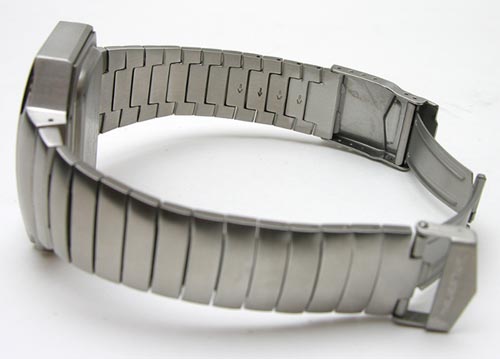 The strap is secured by a two snap clasp.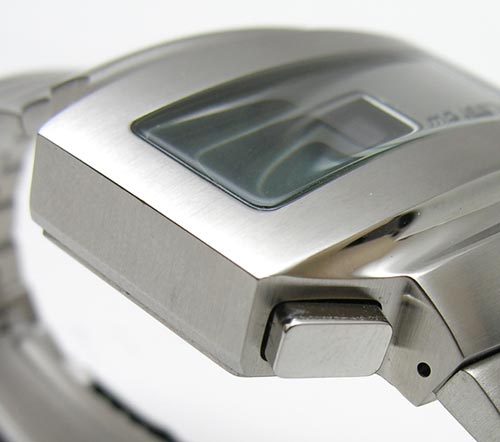 There are two metal buttons situated across from each other diagonally on the edge of the watch. The top right button controls the display. Press it once and the current time displays with flashing : between the hour and minutes. Press the button again and the date is displayed. Press once more and the seconds are displayed.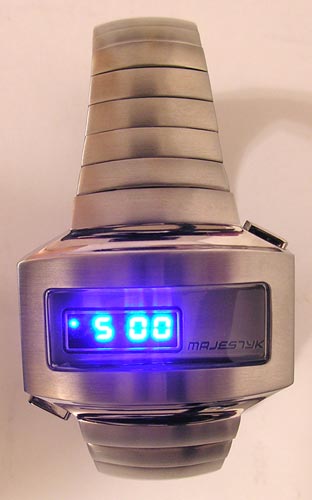 The blue digits look very cool shining behind the large mineral glass face. They are sharp and clear (the pictures here are not good representations of the display). The only problem is that you have to press the button to see the time. And, the time only stays on the display for 3 seconds before it goes dark again.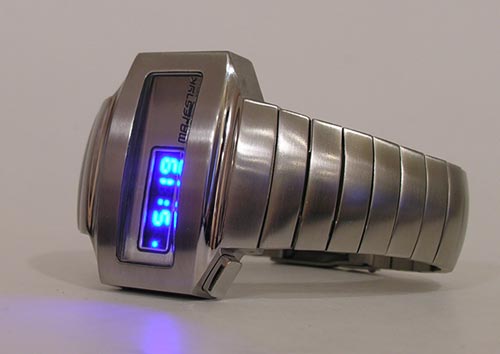 The opposite button is the one you use to set the time and date. The time can be displayed in 12hr or 24hr format. In 12hr format, a small dot designates PM. It's interesting to note that the calendar will compensate for leap years and goes from 2005 up to 2049.
The MAJESTYK watch is water resistant up to 50m and is powered by 2 CR2016 batteries which are supposed to last for approximately 1yr.
If you have a guy friend that is still stuck in the 70s and who has strong wrists, get him this watch. It will make him realize just how far we've come since the days of shag carpet, Captain and Tennielle and Tab cola.
Product Information
Price:
119.0
Retailer:
LED Watch Stop
Pros:

Blue LED watches are unique
Only 500 of these watches exist

Cons:

Heavy
Time only displays when you press a button