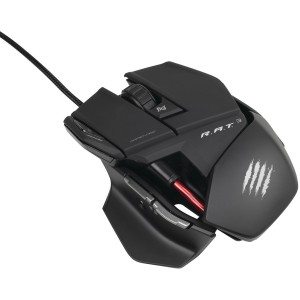 Today's gadget deals have been hand picked for our readers who enjoy video games. The list includes two controllers, a Sony PS4 wireless headset, HDMI cable and a deal on a Sony PS3 and a games for our UK readers.
Mad Catz Optical Gaming Mouse
Prepare for GTA:V on PC with the Mad Catz Gaming Mouse! It's $39.99 from Amazon which is a 33% OFF savings.
Android GameStick
Portable, dynamic, revolutionary: GameStick delivers an all-new big screen gaming experience. Powered by Android, the GameStick plugs into a HDMI slot on your TV. You can then get straight into the action with the fully-featured Game Pad which looks a bit like an upgraded NES controller! It's $19.99 from GameStop, MSRP $79.99.
Sony PS4 Wireless Headset
Here's a headset for PS4 gamers. It's compatible with Windows Vista, XP, Mac, PS4, PSP, PS3 and it has earned 5 star reviews on Amazon where you can find it for $79.99 which is a 20% OFF savings.
HDMI Cables
You're not connecting your game console to your TV with RCA jacks are you? Upgrade to HDMI.
1080P HDMI Cable – Only 10 left in stock on Amazon for $2.75 which is a 89% OFF savings.
Amazon Basic HDMI Cable. $5.99 which is a 25% OFF savings.
Sony PS3 (UK)
Still not convinced to buy the next generation gaming console? No worries, grab a PS3 for only £99 from GAME & pick up one of these great games from HMV.
BioShock Infinite £12.99
COD Ghosts £13.49
The Last of Us £44.99
Tom Clancy's Ghost Recon £9.99
Deus Ex £9.99