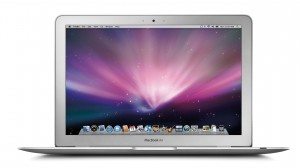 We're going to experiment with posting regular gadget deal posts again on either a daily or weekly basis. However, we only want to do this if you find these posts useful. Unlike the deal posts we've run in the past, these aren't sponsored (I'm not being paid to post them), but in the interest of full disclosure, the links in these posts are affiliate links. That means any sales coming from clicking through and buying the products listed here will earn The Gadgeteer a small percentage of money. Please share your comments below with your opinion on deal posts.
11″ Apple MacBook Air
The Ultimate gadget. Super-slim with an super-fast processing speed. A feather weight laptop that can pack a punch where it counts. As Steve Jobs once said: "We don't get a chance to do that many things, and every one should be really excellent".
1.4 GHz Dual-Core Intel Core i5 (Turbo Boost up to 2.7GHz)
4 GB of 1600 MHz LPDDR3 onboard memory
128 GB PCIe-based flash storage
11.6-inch LED-backlit glossy widescreen display; Intel HD Graphics 5000
OS X Mavericks; Up to 9 hours of battery life
I still love my 13″ Macbook Air even though it's over 3 years old now. This deal is very tempting…
Apple MacBook Air, $854.99 from Amazon
---
Maxell Wild Things Earbuds have a unique animal print design, and are compatible with home & portable devices. They feature a built-in microphone & remote for smartphones for taking calls while listening to music. They include a dynamic earbud design and extra ear tips for comfort.
Snag a 3 Pack from Shnoop, $8.99 (80% OFF!!) Only 11 Hours Left on Deal.
---
LG Apple & Android Docking Speakers
LG's dual docking station allows you to charge one device while playing audio on another (what more could you ask for?) device. Compatible with the iPhone, Android & iPod. Built-in Wi-Fi, easy to stream music and compatible with Airplay or Bluetooth. Stream tunes from iOS compatible device wirelessly.
Dual Docking Station
AitPlat
Built-in Wi-Fi
1 Year Warranty
Android & iOS Docking Station, $99 from Woot (50% OFF)
---
The Rise of the health tracking wearable devices has arrived. With every major tech company looking to revolutionize the watch, the Jawbone has managed to sneak in under the radar. It's a health and fitness wristband, and app, that tracks your sleep, movement and how you eat. You can then use that information to feel your best. It comes in a variety of different styles, for all you color conscious runners. See our review of the Jawbone activity tracker.
JAWBONE Black, $74.99 from Amazon (42% OFF)
JAWBONE Blue, $98.89 from Amazon (24% OFF)
---
Designed with protection and looks in mind, Unicorn Series cases for the HTC One M8 smartphone provides shock absorption and scratch prevention while maintaining a sleek profile. Made from soft thermoplastic & hard polycarbonate materials, it snaps on for immediate protection. Compatible with HTC One 2, HTC One Plus (M8) 2014, it allows full access to touchscreen, camera, buttons, and ports.
See our review of the HTC One M8 Android Smartphone.
Available from Amazon for $14.99 (40% off!)
Note: All of the links in this post are affiliate links.