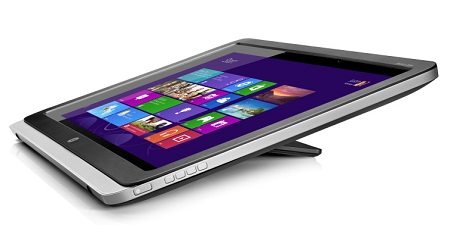 Is it past time to upgrade your tired old laptop, backup drive and external monitor? Today's deals from Faveable include three products from Lenovo, HP and Dell that will save you almost $300 if you buy them all, or about $100 each. First there's a Lenovo 1TB backup drive that has a built in wireless router that will allow you to stream files to other computers, tablets and phones. Then there's the Windows 8 certified reclining touchscreen monitor from HP that will give you 23 inches of screen real estate. It's been designed so you can tap, slide, and swipe to your heart's content. And last, but not least, we have the Dell Inspiron 15″ laptop that features a 500GB hard drive and Windows 7 Home Premium.
Lenovo F800 1TB Multi-mode Wireless Storage w/ Wireless Router & 4,000 mAh PowerBank for $149.99 with free shipping (normally $249.99 – use coupon code: USP1MA536171).
HP Pavilion 23tm 23″ 1080p Fully-reclining Touch Monitor for $247.49 with free shipping (normally $349.99 – use coupon code: ACE8477).
Dell Inspiron 15 Dual-core Windows 7 Laptop for $359.99 with free shipping (normally $449.99).
These deals can expire at any time, so don't wait too long if you're interested…