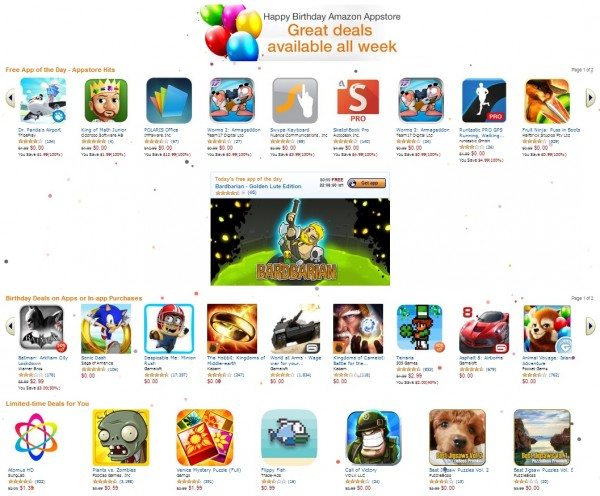 To celebrate its third birthday, the Amazon Appstore is offering 14 free apps through Saturday, March 22. In addition, they are offering discounts off selected apps and an in-app promotion for others in which in-app purchases will receive 50% back in Amazon coins. These other deals last through March 29.
Here are the apps that are currently free:
Monopoly (4.99)
POLARIS Office (12.99)
mSecure – Password Manager and Secure Digital Wallet (9.99)
Runtastic PRO GPS Running, Walking & Fitness Tracker (4.99)
SketchBook Pro (4.99)
Swype Keyboard (3.99)
Worms 2: Armageddon (0.99)
Worms 2: Armageddon (Kindle Tablet Edition, 0.99)
Fruit Ninja: Puss in Boots (0.99)
Dr. Panda's Airport (1.99)
King of Math Junior (1.99)
Battle Maiden Yuko Runner (10.00)
SpinArt (1.99)
Ski Safari: Adventure Time (0.99)
Visit the Amazon Appstore for more details.
More stories from The Gadgeteer