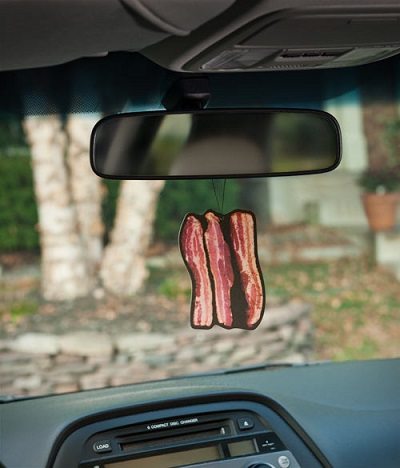 Do you love bacon? Is there anyone besides a vegetarian who can honestly answer no to that question? Bacon aficionados will appreciate today's partnered post with Faveable.com, a gadget and cool-stuff discovery site for men. Their team has shortlisted some really interesting products with a bacon theme! Some of the items on the list are products that you never imagined existed.
Bacon Scented Air Freshener: Looks like bacon, smells like bacon, but doesn't taste like bacon. (Don't eat it, okay?)
Bacon & Cheddar Popcorn: The perfect blend of gourmet popcorn, bacon and cheddar cheese flavors. Yum!
Bacon Soap: Looks and smells like bacon, but it's a bar of soap! Comes in a fancy tin, perfect for a gift for all bacon fanatics.
Marini's Hand Dipped Chocolate Bacon: Exquisite combination of two favorite foods – bacon and chocolate. These boxes of chocolate-dipped bacon are perfect for a gift or a guilty personal pleasure.
Maple Bacon Flavored Coffee: Did you think this list would conclude without a mention of the popular beverage? Obviously not. This should be perfect early morning brew for those among us who are crazy for bacon.