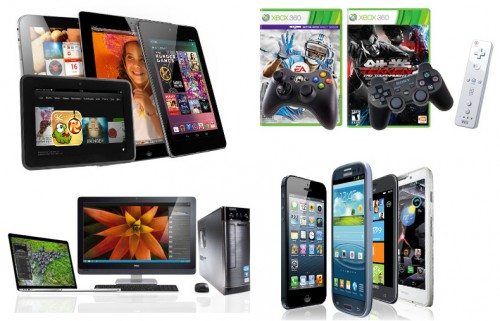 LogicBUY spends all year searching for the best deals on computers, televisions, games and consoles, smartphones and tablets, cameras, and other gadgets.  They've applied their expertise to ferreting out some of the best Black Friday prices on tech gear and electronics, and they've asked us to tell you about their Black Friday 2012 Deal Predictions.
With the introduction of Windows 8, LogicBUY expects to see a lot of year-end deals on laptops and desktop units.  They predict limited quantities for these deals, but you should still expect to find good prices on computers with "3rd gen Intel CPUs, USB 3.0, and Wireless-N."  Expect prices as low as $299 for a desktop with a Core i3 cpu and a 22″ monitor or a laptop equipped with a Quad-Core i7 cpu with discrete graphics for as low as $550.
Of course, you shouldn't expect any sale prices on the newest iPad with Retina display or the new iPad mini, but LogicBUY predicts that Barnes and Noble may reduce prices on their new Nook HD.  They also expect savings of about $70 on the Apple iPad 2 or refurbed iPad 3, and the 10″ Samsung Galaxy Tab 2 is expected to be $275.
In the smartphone category, LogicBUY expects some blowout prices for Black Friday.  They're predicting you can get a Samsung Galaxy S III for free or a Droid RAZR MAXX HD for $25.  If you prefer the iPhone, you can probably get a refurbed iPhone 4 for free or the iPhone 4S for $50 – but you shouldn't expect to find the iPhone 5 at rock-bottom prices.
LogicBUY has predictions for deals in other categories, including: gaming equipment, HDTVs, and solid state drives.  Check out their prediction page (linked above) for more details about these products and more details about the gear mentioned in this post.  Also go to their main Black Friday 2012 page to scope out all the deals they're anticipating and look at the leaked sales filers for some major retailers.
With LogicBUY's help, you'll be able to make your family's tech dreams come true!