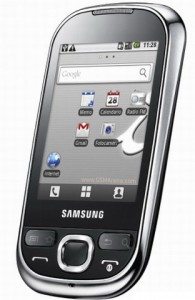 Another fair dinkum Aussie deal.

Need a cheap and cheery smartphone but missed out on the cheap LG Optimus Spirit? Woolworths has the Telstra pre-paid Samsung Galaxy 5 currently on sale for 1/2 price at $49.50
With a 600 MHz processor running Android 2.1 (Eclair), a 240 x 320 pixels, 2.8 inches screen and an included 2GB microSD, it's not going to match the latest and greatest dual or quad core phones, but then it's a heck of a lot cheaper. Pretty good value for a smartphone as a backup, as a dedicated MP3/GPS device or a cheap solution for the kids or oldies. It is locked to Telstra, though there does appear to be unlock codes available, and there is development for this little phone on XDA Developers.
Available until the 28th of August or until they're sold out from your nearest Woolies.