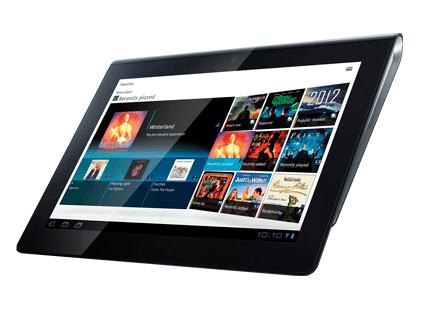 We don't share many Woot! sales as news, and I trust most of our readers know of Woot! but today's sale caught my attention. They are selling the Sony Tablet s with 32GB and a dock for $259.99.  If you are looking for a quality ICS-Capable Android Tablet, it would be hard to go wrong with this one.
Specs:
1 GHz nVIDIA Tegra 2
1 GB Memory
32 GB Storage
9.4″ 1280 x 800 display
microUSB port (not for charging)
Full-size SDHC (up to 32GB)
5.0 MP camera plus .3 MP front-facing camera
IR Remote capabilities
It also comes with the dock, and a power cable (you can use the cable with the dock or the tablet). Of course a key feature is the $260 price tag. This is a great deal on a tablet that is not the old. Here are some things to be aware of:
Newer tablets can come with Tegra 3 1.6 GHz processors
No HDMI out, even in the dock
Odd shape (it's a wedge) I kind of like the shape.
Comes with Honeycomb, but you can upgrade to ICS right away.
So what do you think? I had one friend on G+ recommend spending another $150 for the ASUS TF300 (it has a Tegra 3), and of course I can't help but covet the TF700 (add in high res screen, gorilla glass) for another $240. But at this price point, it is an attractive deal.