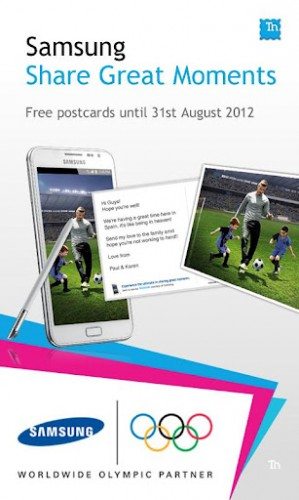 I'm not talking about electronic postcards, I'm talking about honest to goodness printed physical postcards that you send through the postal service. And they're absolutely free (including postage) from now till 8/31/2012. Samsung, a worldwide Olympics sponsor, is teamed up with Touchnote to offer real postcards using official Olympics images for free. Send to anywhere from anywhere using Android, the Web and Facebook. Sorry iOS peeps, you're not in on this deal. The only "catch" is that the cards are sponsored by Samsung, and have a small amount of Samsung branding on them. But other than that, they 100% free. They don't even ask for your credit card. Full press release after the jump.
Samsung sponsors London start-up Touchnote to let people across the world send real postcards – for free
LONDON, 31st July, 2012 – Samsung announced that it has partnered with Touchnote to extend the London celebrations to everywhere in the world by inviting everyone to send real, printed postcards for free to commemorate their favourite moments this summer.
The campaign will run to the end of the summer on Friday August 31st, and allows consumers to send free postcards via their smartphones or online with Touchnote, the award-winning mobile postcards start-up.
Whether people are in London this summer, on holiday, or travelling to far-flung corners of the world, they will be able to send their photos as real, printed postcards to friends and family, absolutely anywhere in the world for free during the campaign.
People can share their photos as real postcards with family and friends through Touchnote's  Android app, the campaignwebsite and the Facebook app. Additionally, people using the Samsung GALAXY Note and S-pen will be able to include hand-writing on the free postcards.
Raam Thakrar, co-founder of Touchnote added: "In today's world of sharing photos digitally on Facebook and email, it is easy to forget how special it is to receive something in the post. A real postcard adds a personal touch and can really make someone's day. Touchnote is based on the philosophy that certain moments should live forever and this summer in London will undoubtedly be filled with incredible moments. We're delighted that Samsung is giving everyone the opportunity to make their memories permanent, wherever they are, simply by getting online or using their smartphone. We've also worked hard to optimise the Touchnote experience for the Samsung GALAXY Note so users can experience more such as hand-writing in various colours and different pen functions to fully express their emotions.