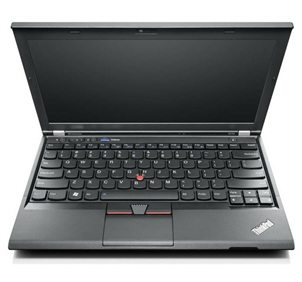 Wednesday's LogicBUY Deal is the Lenovo ThinkPad X230 12″ ultra-portable laptop, as low as $949.  Features:  choice of Core i3 (Sandy Bridge processor), or i5 or i7 dual-core Ivy Bridge processors. New Ivy Bridge processors are 15% faster, 15% more power efficient, and have 60% better graphics performance (Intel HD 4000). Standard features include Mini-DisplayPort output, USB 3.0, up to 8 hours of battery life with the standard 6-cell battery or up to 24 hours with the 9-cell plus battery slice.  This deal also offers a free upgrade to 500GB 7200rpm HDD (must manually select it).
Core i3, 4GB RAM, 500GB 7200rpm HDD for $949 and free shipping.
Core i5 +$30, 4GB RAM, 500GB 7200rpm HDD, Win 7 Pro for $832.15 after 15% coupon.
Core i7 +$275, 4GB RAM, 500GB 7200rpm HDD for $1,040.40 after 15% coupon.
This deal expires June 12, 2012 or sooner. Check the above link for more details on this deal, and check the LogicBUY home page for other deals.