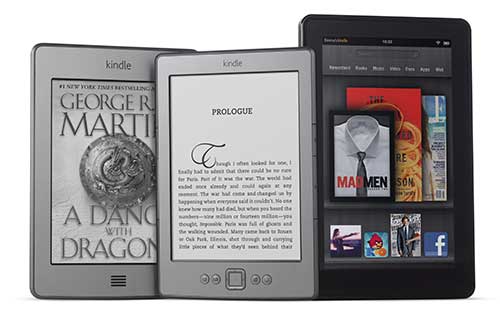 As expected, Amazon.com Inc.'s CEO Jeff Bezos announced the Amazon Kindle Fire tablet and a trio of new Kindle e-readers two carrying the name and capability, "Touch". The Fire will have a 7-inch screen and run on a heavily modified version of Google, Inc.'s Android operating system. Included with the Fire will be a one-month trial to Amazon's "Prime" service that includes no-additional charge streaming videos and two-day shipping on many of the products sold by the world's largest online retailer.
First shown were the new Kindle e-readers two of which will utilize an improved e-ink screen with touch capabilities, allowing the company to remove the keyboard and other function buttons.  Page-turning will be accomplished by touching various segments of the screen and be easily done with one-hand.
Pricing for the WiFi version of the new Kindle Touch was set at $99 with ads or $149 ad-free and the Kindle Touch 3G version that reportedly will work in over 100 countries is priced at $149/$189. There is no additional charge for data usage on the 3G model. Mr. Bezos then presented a non-touch screen/non-physical keyboard equipped WiFi Kindle that will sell for $79/$109
While Mr. Bezos didn't give specifics the devices all look smaller than the existing third-generation Kindles and will have better battery life than existing devices.
The touch-screen Kindles will be available for pre-order shortly and ship on November 21 while the non-touch-screen model is available for sale/shipment today.
The new 14.6 ounce Amazon Kindle Fire tablet is powered by a dual-core CPU, 7-inch IPS display that's protected by Corning, Inc.'s "Gorilla Glass". The device will rely heavily on Amazon's cloud services. Synchronization will be handled by the same Whispersync system that Amazon utilizes with their existing Kindles. This means that if you're watching a movie, listening to music, or reading a book on one device and move to another device you'll be able to seamlessly pickup at the same spot. A connection to a PC will not be necessary.
The Kindle Fire is based on Google's Android, but the user interface doesn't resemble any Android device released to date. Among other apps, Amazon is providing its own web browser named, "Silk" which will utilize Amazon's back-end servers to cache and speed-up web page display on the devices' display in a process they're calling, "Dynamic Split Browsing".
The Amazon Kindle Fire will ship on November 15 and is available for pre-order today for $199.
The devices are now available for sale/pre-order.
More stories from The Gadgeteer