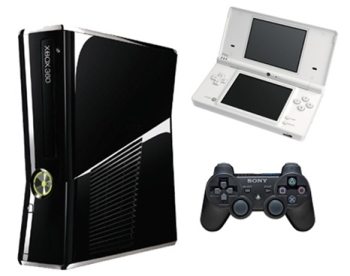 The LogicBUY Deal for Tuesday is a 10% off coupon on a plethora of gaming gear.  For a limited time, you can get discounts on select consoles, video games, and accessories like LCD monitors and other peripherals.  This coupon expires September 29, 2010 or after the first 250 uses.  You'll even get free shipping on orders over $50.  For example:
Xbox 360 Slim 250GB Console $299.99 $279.99
PlayStation 3 Slim 160GB $299.99 $269.99
Nintendo Wii Summer 2010 Bundle (White) $199.99 $179.99
Nintendo DSi Portable Gaming Console (white) + BrainAge $199.99 $129.99
See all seventeen of the key deals after the jump!
Xbox 360:

PS3:

Wii:
DSi:
Other Accessories:
30-inch Dell UltraSharp U3011 2560 x 1600 IPS-panel LCD Monitor $1,499 $1,349.10
24-inch Dell ST2420L 24-in 1080p LED-backlit HDMI LCD Monitor $259.99 $233.99
Alienware TactX Headset $74.99 $67.49
Alienware TactX Keyboard $99 $89.10
Alienware TactX Mouse $99 $89.10