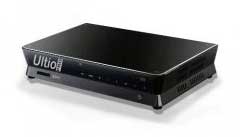 The fine Folks at Mvix(who make awesome torrent-enabled media centers and whose geeky products get picked up often in the Top 10 Holiday Gift Guides in many magazines) have gone all festive on us and have offered to sponsor a crazy Summer/Fall Giveaway, exclusively for Gadgeteer Fans. Read on for the contest details.
They are giving away a FULLY-LOADED, Mvix Ultio PRO (MX-880HD) with a 1TB SATA HDD and Wireless-G Adapter to ONE lucky winner from our site.
To enter, simply leave a comment to this post answering the following question:
"Have you used Mvix products before, what do you think about them, and how do you plan on using them."
That's it! Each reply counts as one entry, only replies with a response to the above question will be counted.
One reply per person and multiple accounts are automatically disqualified.
Giveaway starts immediately and runs for the next 5-days.
The prize drawing will happen 9/6. The winner will be contacted via email and will be announced as soon as the winner confirms. If there is no response in 48hrs, a new winner will be chosen.
Mvix folks are also offering to giveaway 10 x TShirts, if the total number of responses exceed 500.
If interested in learning more about the prize, check out their cool Ultio Pro HD Media Center – which is a combination of HD Media Player, Video Recorder, Torrent Down-loader and NAS.
9/7/10 – The winner is comment #76 Jill.

More stories from The Gadgeteer