I enjoy carrying stuff in my pocket or gear bag to take care of everyday annoyances or that can be useful in emergencies- the 'Be Prepared' Boy Scout in me. Thanks to a link on The Gadgeteer, I have discovered EDC Forums, a place dedicated to talking about the stuff you usually have with you- they call them 'Every Day Carry'.
One thing I enjoy carrying is a multi-purpose tool with a knife blade. I really like the Victorinox Midnight Manager pocketknife with the small scissors, Phillip's screwdriver blade, pen and small LED light, but the $20 tool keeps ending up in the wash or getting lost (as does my beloved Fisher Bullet Pen). Besides, the Midnight Manager is kind of thick and just a tad flimsy for many of my purposes.
I've used the Swiss-Tech Utili-Key for a couple of years on and off, and was turned onto the Gerber Artifact by people at the EDC Forum. When I found an Artifact at Target for under $10, I could not resist getting one to try it for myself.
SIZE COMPARISON-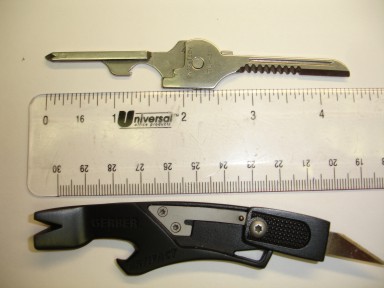 alt="Pocket Tool 01"/>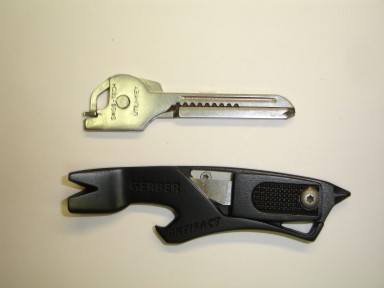 alt="Pocket Tool 02"/>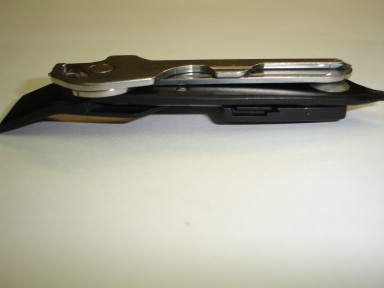 alt="Pocket Tool 03"/>
[Size Comparisons]
The Utili-Key is the silver one.
Overall length of the folded tools: Utili-Key- 2.75″. Artifact- 3.5″
The Artifact is the bigger, heavier, STRONGER tool
BLADE COMPARISON-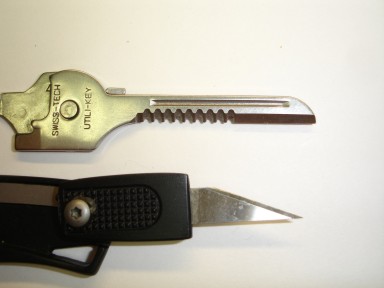 alt="Pocket Tool 04"/>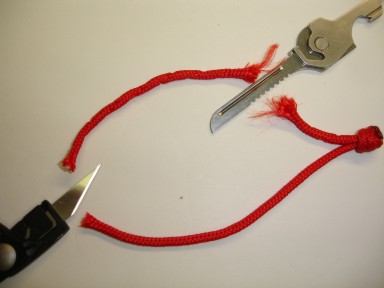 alt="Pocket Tool 05"/>
[Blade Comparisons]
The Utili-Key offers a plain and serrated blade section, the Artifact uses a replaceable Xacto #11 blade.
The second photo shows a cut in some nylon cord. The Utili-Key took about 3 tries and made a rather ragged cut, while the Artifact made a clean cut the first time. (Disclaimer- I have used the Utili-Key a lot without resharpening, and the Artifact has a new blade in it, but an Xacto blade will generally outcut a typical blade.)
While the Utili-Key blade works fine in most cutting situations, and can be resharpened, the Artifact has a definite edge in sharpness- but the replaceable blade is also thinner than the Utili-Key blade, which can be a problem sometimes. Another interesting bit is that the dang super-sharp Xacto blade keeps cutting me at annoying times (Suggestion- watch your fingers as you open or close this blade!)
SCREWDRIVER COMPARISON-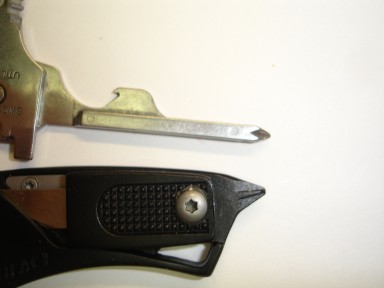 alt="Pocket Tool 06"/>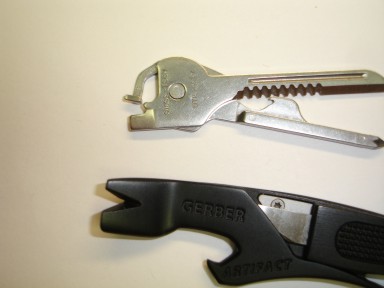 alt="Pocket Tool 07"/>
[Screwdriver Comparisons]
Phillips: The Utili-Key is a bit smaller than a typical #1 Phillips tip, while the Artifact is a bit smaller than a #2 Phillips.
Slotted: Both Utili-Key slotted drivers are smaller and thinner than the Artifacts. None of them are especially well positioned for many tasks.]
OTHER FEATURES-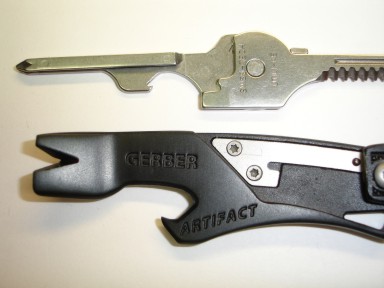 alt="Pocket Tool 08"/>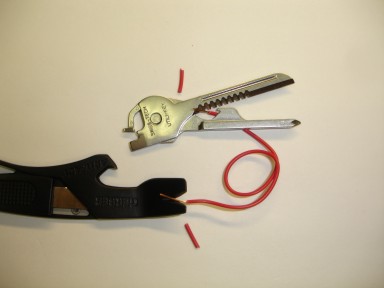 alt="Pocket Tool 10"/>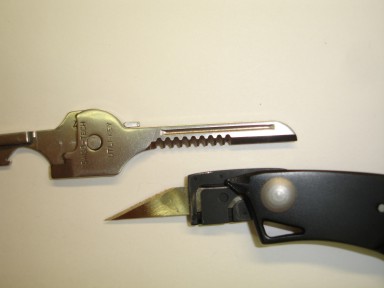 alt="Pocket Tool 09"/>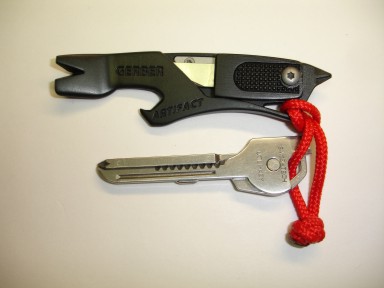 alt="Pocket Tool 11"/>
[Other Features]
– Both tools offer a cap lifter, and both work fine on typical caps
– Both tools have a wire stripper- between the cap lifter and serrated blade in the Utili-Key, between the slotted bits on the Artifact.
– The Utili-Key does offer a serrated knife, while the Artifact's blade is removeable.
– The Artifact offers a pry bar and the utili-Key can open at right angles for more leverage on the Phillip's tip.
– The Artifact has a lanyard loop, and the Utili-Key can close itself over a cord or keyring
SUMMARY-
While both tools are similar in many ways, including price, and the Artifact wins for toughness and the blade… I think I am going to stick with the Utili-Key for my Every Day Carry tool- it is smaller and lighter and does what I need a quickly available tool to do. Plus, its size and weight means I am more likely to leave it on my keychain so I am more likely to have it when I need it AND less likely to send it through the wash.
Product Information
Price:
Pros:

SWISS-TECH UTILI-KEY Pros:
Small and light
Serrated knife helps make up for duller main knife
GERBER ARTIFACT Pros:
Incredibly tough!
Replaceable and easy to find blade
Can be opened and closed one-handed with care
Pry bar... if you have a use for it

Cons:

SWISS-TECH UTILI-KEY Cons:
Not as tough overall
Knife is not as sharp
Tricky to open one-handed
Smaller tools (which may be a 'pro' depending on the job.)
GERBER ARTIFACT Cons:
Bigger and heavier