Product Requirements:
Device:
Windows 98SE or higher
Mac OS 8.6 or higher
When I found a USB 2.0 to IDE cable in a package of other review items that I had received from Brando's Workshop, I had to wonder when and if I'd ever be able to actually review it. According to the packaging, this product would allow a person to connect an IDE device to a computer via USB. At the time I wasn't in the market for a new hard drive, CD-Rom, CD-RW, DVD-Rom or DVD-RW, which are what this device is compatible with. I didn't relish the thought of cracking open my homebrew Athlon desktop to test with one of my current drives, and I didn't feel like going out and buying a new device just for a review. So, I put the box in my pile-o-stuff and hoped an opportunity would present itself. Wouldn't you know it, about 2 months later I would be thanking Brando for sending me this product…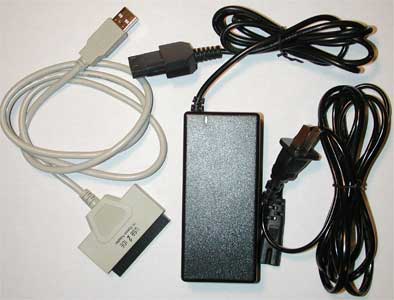 I had been promising my sister that I would upgrade her ancient 400mhz Pentium desktop to something nicer, for a long while. Since I had just purchased an Apple 15" G4 Powerbook, I decided that my Fujistu Lifebook (a.k.a. Mini-me) was no longer needed and decided to make it a gift to her.
Of course, she was thrilled, but at the same time, she asked how we could transfer her emails, pictures, documents, etc. from the old computer, to the new computer. I said "no problem…" and packed a gear bag with several tools before heading over to her apartment.
The tools I took along with me were:
CR-T3-U26 USB 2.0 6-in-1 Memory Card Reader
VICTORINOX CyberTool 34
USB 2.0 Data Link Cable (another product that Brando sent… review to be posted soon)
USB 2.0 to IDE Cable
It had been awhile since I worked on her computer, and once I got there, I remembered why I hated working on it. For one thing the CD-Rom didn't work. If that wasn't bad enough, it was running Windows 98. ACK! No SE here folks… That means, no USB. My idea of just plugging in the card reader and copying the necessary files to it for transfer was blown out of the water quickly. So was the idea to use the USB 2.0 Data Link cable between the two PCs. Luckily I had the USB 2.0 to IDE cable to try out!
Using the CyberTool, I opened her computer case, unscrewed the first hard drive (she had 2 of them) from the mounting bracket, and then took a closer look at the USB 2.0 to IDE cable instructions. Since the Fujistu notebook was running Windows XP, no driver installation was required. A mini CD is included in the box if you happen to be running and older version of Windows or Mac OS.
Basically the cable has a female 40 pin IDE connector on one end and a standard sized USB connector on the opposite end. The total length of the cable is 39 inches. Here are the specs.
Hardware Specs:
Fully supports USB 2.0
480Mbps high speed data transfer rate
Supports Hard Disk, CD-ROM(max. 52x), CD-RW, DVD-ROM, DVD-RW, Combo device
AC Power Adapter input : 100 ~ 240V, 50/60HZ, 2A
AC Power Adapter output : 12V/3A, 5V/2A
The only important step in the included instructions (a small folded piece of paper) is to make sure that you set the hard drive to Master mode instead of Slave mode. By default, hard drives tend to be set to Master mode. This is especially true if you remove one from a system with only one drive. In this case, I had two drives to contend with, so I had to pay attention to the jumper settings on the drives.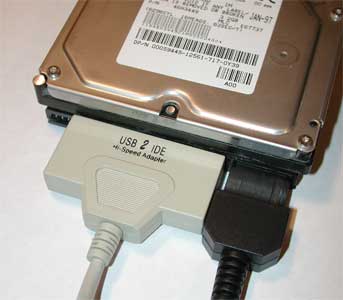 Once I made sure I had the mode set correctly, I attached the cable to the IDE port, attached the included AC adapter to the hard drive, plugged in the AC adapter to a power outlet, and then plugged the USB connector into the Fujistu notebook. I was a little worried since I knew that the Fuji didn't have USB 2.0 ports. I didn't know if that would make a major difference or not… A few seconds later, the notebook detected the new hardware and the drives appeared under the My Computer drives list. Cool!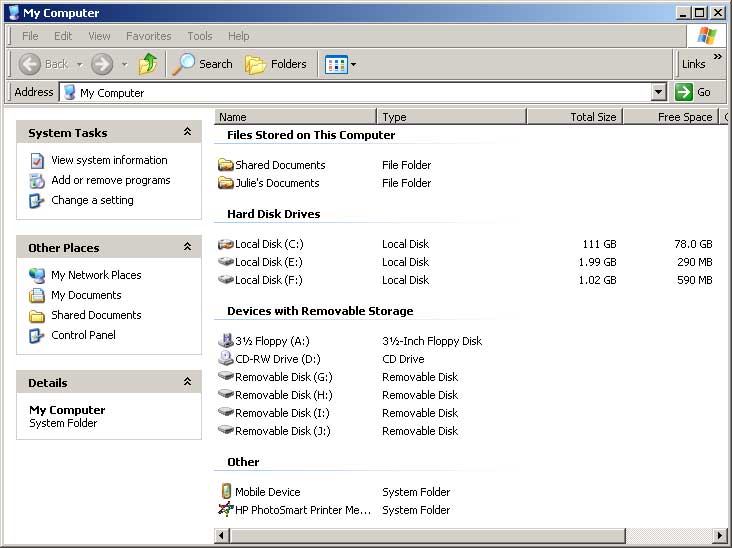 The drives show up in the Hard Disk Drives list. Here they show up as E: and F:
From there, I was able to copy all of her files files from the hard drive to the notebook via a simple drag and drop operation. She was pretty impressed!
After I finished copying the files from the first hard drive, I put it back into her system and then removed the 2nd hard drive. I repeated the same hook-up steps, but this time the drive was never recognized by the notebook. I could hear it spin up, so that wasn't the problem. I could put it back into her computer system and it worked fine…
I ended up bringing the drive home to try out with my Athlon desktop since it does have USB 2.0 ports. Unfortunately, when I connected it to the desktop, it was never detected either. I tried it on my Powerbook and had the same results. However, when I plugged the drive directly into my desktop's IDE cable and power cables, then rebooted the system, it showed up just fine. At this point I was pretty sure there was a problem with the cable. But then when I went to take pictures for the review, I plugged in the cable and noticed that that the power plug was a really tight fit. Then I saw that I had the cable plugged in so that one end of the connector was not in contact with one set of the pins on the hard drive. OOPS! After I took the pictures, I plugged it into my PC and badda boom badda bing! It worked perfect! The moral of this story is to pay close attention to what you're doing… ;o)
This product is handy for the purpose outlined here, as well as for system expansion. Using the USB 2.0 to IDE cable, you can easily add extra storage or capabilities to a desktop or notebook system without the hassles of opening cases and futzing around cables. I'll be keeping it around just in case…
Price: $32.00
Pros:

Easy to use

Inexpensive way to add storage to an existing PC
Cons:

None
Other articles that we've written that you might like...
Product Information
Price:
32.0
Manufacturer:
Brando
Pros:

Easy to use
Inexpensive way to add storage to an existing PC

Cons: